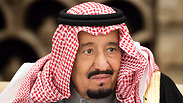 Israel and Saudi Arabia have reportedly been holding talks to establish economic ties, according to British newspaper The Times, which cited American and Arab sources in its report.

According to the report, the historic move, if implemented, could be the first step toward normalizing relations and would begin with Israeli businesses being allowed to operate in the Persian Gulf. The newspaper gave as one example the possibility of Israeli airline El Al being allowed to fly over Saudi airspace.

The British newspaper also estimated the possibility of tightening relations with Israel partly explains why Saudi Arabia and its allies have boycotted Qatar in an effort to force it to stop supporting Hamas, an effort that seems to be producing results.

However, a source close to the Saudi leadership dismissed the idea of rapprochement between the two countries, saying it only reflects the White House's wish to show fast results, after US President Donald Trump visited the region last month, beginning with Saudi Arabia and stopping next in Israel.

The British Times also noted that Jared Kushner, Trump's son-in-law and adviser, has grown very close to King Salman's son, Mohammad bin Salman, the Saudi Crown Prince and defense minister.

The two reportedly discussed a strategy whereby the Gulf states would improve ties with Israel as a prelude to a peace agreement with the Palestinians and full recognition of Israel by the Arab world.

This did not sit well with the Palestinians, who were furious at the thought and feared it would normalize relations with Israel and leave them with nothing more than a vague promise of a future state, according to the Times.

Saudi Foreign Minister Adel Al-Jubeir told reporters in London on Friday Saudi Arabia was working on a list of complaints against Qatar, which it will present as soon as possible. Al-Jubeir stressed the document is not written as a list of demands, but rather "complaints" the Qataris need to deal with.

He noted that Saudi Arabia is cooperating with Bahrain, the United Arab Emirates and Egypt in drafting the list.

Al-Jubeir added Qatar must stop supporting radical elements and terrorism, stating these were demands from the entire world, and not just from the Gulf states.

Meanwhile, Bahrain's official news agency on Monday revealed recordings of phone calls by Qatar's adviser to a senior official in one of the opposition movements in Bahrain, which is supported by Iran and defined by Bahrain as a terrorist organization. The news agency claimed the talks took place while protesters held violent protests for the opposition.