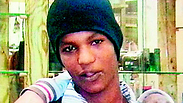 The family of Abera Mengistu, who voluntarily entered Gaza and was captured by Hamas almost three years ago, received Saturday the security video showing him cross the border into the strip.

Mengistu crossed the border into the Gaza Strip on September 7, 2014 and has since been held in captivity by Hamas. About three months later, then-commander of the 143rd Division, Brig. Gen. Itay Virov, met with the family and presented them with the findings of the IDF investigation into the incident, and also showed them the video.

About six months ago, the family filed an official request to receive the footage.




IDF Chief of Staff Lt. Gen. Gadi Eisenkot decided to approve the request and on Saturday evening after which Defense Ministry representative Lt. Col. (res.) Orly Cohen Gefen and the head of the Military Intelligence Division's Captives and Missing Persons Department, Lt. Col. A. delivered the video to the Mengistu family.

Earlier this month, hundreds of people rallied for Mengistu's release on Rothschild Boulevard in Tel Aviv, marking 1,000 days since he crossed the border. Protesters carried signs saying "Love thy neighbor Abera" and "Abera is still alive."

Mengistu's mother, Agernash, said at the rally, "My heart is breaking by the thought that after so many days, I don't know if my son has seen a doctor, received medication, or what his medical condition is at all. I'm hopeful mothers and fathers, brothers and sisters will understand my son is sick, and what happened to me could happen to anyone."

Last month, Human Rights Watch condemned Hamas's "cruel and indefensible" detention of Mengistu and another Israeli citizen held by Hamas under similar circumstances, Hisham al-Sayed, and defined the two as having "serious mental health" issues.

Hamas has never officially confirmed Mengistu and al-Sayed's detention, but videos it posted on social media have made mention of both. Beyond that, the terror group has not given any update on the situation of the two men, nor did it allow Red Cross or Red Crescent medical officials to visit them.