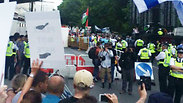 The annual "Al Quds" march was held in London on Sunday, with hundreds of supporters waving Hezbollah flags as they were making their way to London's city center.

A heavy police presence escorted demonstrators, who accused Israel of genocide, crimes against humanity and held signs with messages such as "We are all Hizbullah (sic), Boycott Israel" and "Free Palestine."

Al Quds march in London

Among participants in the protest were members of the anti-Zionist Jewish sect Neturei Karta, who marched alongside demonstrators chanting, "Enough of the rabbis," "Enough with Zionists" and "Enough with the synagogues!"

In recent weeks, more than 20,000 people signed a petition calling for the march to be banned, but London Mayor Sadiq Khan claimed he had no authority to make that decision. While Hezbollah's military arm has been outlawed in Britain, the terrorist organization's political arm is allowed to operate publically.

This year, hundreds of pro-Israel demonstrators organized a counter-protest, where President of the Board of Deputies of British Jews, Jonathan Arkush, called on anti-Israel protestors to meet next year in Tehran and not London.

World Jewish Congress representative Vladimir Bermant said, "Hezbollah's path is the path of violence. Unfortunately, we people in London are already familiar with the flags of terrorism and calls for 'death to Israel' and 'death to Americans.'

"Those are the same people who were the terrorists on London Bridge, in Manchester or in any other place. This is why the 'Al Quds' march needs to be banned. To bring children to a march like this creates a problem with radicalization that will be very difficult to solve in the future."