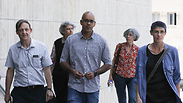 Several of the resigning staff from Hadassah's Pediatric Department
Photo: Ohad Zwigenberg)
Resigning Hadassah doctors call hospital the real spin doctor over its disloyalty claims
New evidence shows resigning Hadassah doctors were already planning to open a new pediatric dept. at Shaare Zedek Medical Center before negotiations broke down; doctors' legal rep. calls Hadassah move a publicity spin, demands mediator in future talks.
A newly released set of correspondences revealed Wednesday the director general of the Shaare Zedek Medical Center, Prof. Jonathan Halevy, and resigned Hadassah Pediatric Department director, Prof. Michael Weintraub, were already in talks to move the Hadassah staff to Shaare Zedek long before other doctors from the department resigned.

The doctors have claimed their resignation stemmed largely from Hadassah Director Prof. Zeev Rotstein's decision to perform bone marrow transplants on children at a department for adults and combine the children's department with the adult's department. Following the mass resignation, new doctors have been hired by the department. However, the nursing staff reported the new staff was not as professional as the resigning physicians.

The released email exchange details an ongoing conversation that took place between resigning Hadassah director Weintraub to Saare Zedek's Halevy and Shaare Zedek's Deputy Chief Financial Officer Ruth Relbag. For example, in an email dated May 15, 2016, Relbag discussed with Weintraub the size of the pediatric department that was planned to be built at Shaare Zedek, writing him that "it will be about 1,000 square meters."

Dated toward the end of January, Weintraub wrote to Halevy, "I, too, think this saga is close to reaching its peak, and I hope it will end to our satisfaction."

The resigning physicians said Wednesday that making such talks public merely acts to sabotage any attempt at reaching an understanding. Attorney Erna Lin, who is representing the resigning doctors, wrote a letter to the Health Ministry stating their displeasure at the correspondences being made public.

"Due to these events, there is no point in any direct contact. You reject the proposals the doctors bring forth, do not advance the suggestions the doctors have agreed to, do not agree to concrete proposals and on top of it all, our contact is being leaked to the press as one, big, twisted spin," wrote the letter.

"There is nothing in all of this that could advance or contribute to any kind of solution," continued Lin. "As such, any mediation proposal or other kind of solution should be made through the High Court of Justice."

The Health Ministry issued its own statement, calling on the resigning doctors to return to Hadassah and noting they had already agreed to do so, but then changed their minds over the weekend. "We ask once again they put all other considerations aside and enter an immediate mediation for the benefit of the precious children, after already agreeing to make everything as it were."

Sources within the Health Ministry said Saare Zedek's Halevy is being viewed as the central guilty party, accusing him of not acting in good faith. "This has been a well-thought out move set on destroying Hadassah's department and setting up a new department in Shaare Zedek," sources in the ministry said. "The head of Shaare Zedek was involved, and was advised by the resigning department head throughout this crisis. It is a putsch attempt. All the talk about not intending to take sides are now shown to be nothing more than a blatant lie."

Shaare Zedek also issued a statement, saying "it has never been refuted that Prof. Weintraub approached Prof. Halevy on November, 2016, over opening a new department, in light of his and other doctors' intention to resign from Hadassah. And yes, opening a department at Sharee Zedek was considered, regarding its physical infrastructure.

"However, Prof. Halevy acted to convince the resigning doctors to return to Hadassah from a very early stage—namely, in February, 2017." At the time, Halevy and the Shaare Zedek Medical Center was informed the Health Ministry was not about to approve it opening a pediatric department of its own, which nixed any need for hiring staff from Hadassah's pediatric department.

Health Minster Yaakov Litzman himself stated that "there will be no department at Shaare Zedek. This is a professional decision of the Health Ministry, and not one made by me in my capacity as a minister. I personally am stunned by what I've read this morning. It's hard for me to imagine that senior doctors would clandestinely try to carry out a putsch at a hospital. To try and take away workers—social workers, nurses and administrative staff—and to ruin the department is something unimaginable. It is a destruction of the healthcare system. I will be looking into the correspondence between the doctors and Shaare Zedek."