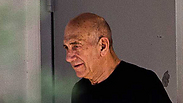 Ehud Olmert
Photo: Tal Shahar
The Petah Tikva Magistrate's Court ordered the police on Thursday morning to return to Yedioth Books a huge trove of documents related to a book currently being written by former prime minister and convict Ehud Olmert.

The new ruling marks a victory for Yedioth Ahronoth, which on Sunday filed a petition to the court asking that it either cancel or amend the seizure order.

In addition to demanding the return of material entirely unrelated to Olmert, the publishing house also demanded that in the interim, police secure the material in order to avoid views by a third party or duplicates.

Numerous files were seized by police in a raid at the end of last week amid fears the documents being used for the book were classified and related to an investigation currently underway against Olmert.

Last month, the Israel Prison Service seized documents suspected of being classified from Olmert's prison cell and from his lawyer.

With the new ruling, the police is now obliged to return all documentation unconnected with the former premier, as well as documents pertaining to chapters in Olmert's book, with the exception of those relating to two of the chapters that are currently being examined for possible removal of confidential material.

Judge Oded Moreno gave the police until 5pm on June 29 to continue its examination, after which it will be required to return all the material, including books and digital information, bar the two aforementioned sensitive chapters.

In all, the police conducted two raids on Yedioth Books, the first of which resulted in the confiscation of more than 11,000 emails. However, according to a police representative, a technical malfunction had occurred on the disk on which the correspondence had been copied, preventing the investigators from reading it. Consequently, the representative claimed, the disk was destroyed. In the second raid only 30 emails were taken for examination by the police.

Raising Yedioth Books request, the judge stated that the ramifications of the raid on the publishers' office should be taken into consideration, adding that it risked undermining freedom of expression and the protection of journalistic sources, particularly in the event that the seized materials are not returned.

Future writers of books on similar topics, Yedioth's legal team stated, would be afraid of writing books based on security information.

"Freedom of expression is derived from freedom of the press, which is the life and soul of democracy," Jude Moreno continued before reminding that the overarching goal of publications was to stimulate dialogue and exchange of ideas.

"The press, including a book to be published in the public-security sphere, is supposed to function as the public's long arm to allow for free dialogue and free exchange of opinions in a democratic society," he said.