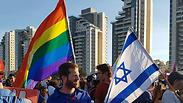 Be'er Sheva's Pride Parade
Israel's southern city of Be'er Sheva held its first ever Pride Parade on Thursday evening, attracting some 4,000 marchers who were treated to a variety of performances by artists and singers in the city's municipality square.

צילום: רועי עידן והרצל יוסף

Participants were thoroughly checked amid security warnings and shortly after 10pm, the display of pride was almost marred by a potential attack when police arrested a Haredi man armed with a knife. The man had attempted to force his way into the crowds.

City Mayor Rubik Danilovich said in a statement, "Be'er Sheva is for everyone and I am the mayor for everyone. ... Be'er Sheva is united, accepting and tolerant. Even if we are difference, we are all equal in the same exact way."

The mayor also told the crowds that they were deserving of rights just like everybody else and thanked the police who enabled the march to go ahead despite opposing it last year.

The parade was originally supposed to take place in 2016 but was cancelled by the Supreme Court's rejection of a petition submitted by the Israeli National LGBT Taskforce (also known as the Aguda) and Pride House (a local Be'er Sheva LGBT center), requesting that Be'er Sheva's first ever Pride parade be allowed to march through the city's Rager Boulevard, which acts as the city's main artery.

In 2015, Yishai Schlissel, a radical Haredi man carried out a deadly stabbing attack at Jerusalem's annual gay pride parade, killing 16-year-old Shira Banki. He carried out a similar attack in 2005 in which three marchers were wounded.