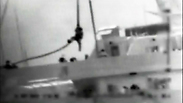 Raid on the Mavi Marmara
Photo: AP
Turkish media quoted the country's Finance Minister Naci Agbal Friday, saying that Israel has paid total compensation of $20 million to the families of people killed during an IDF raid in 2010 on a Turkish flotilla that attempted to break Israel's maritime blockade around the Gaza Strip.

The blockade was set up in an effort to stop materials entering the enclave that could be used for terror activities by Hamas.

Ten people aboard the Mavi Marmara flotilla were killed by IDF gunfire after the Israeli commandos were set upon and attacked immediately after descending onto the ship. Footage from the incident showed what were originally believed to be peace activists began battering the IDF soldiers with metal clubs, attacking them with axes and knives and even throwing one of them overboard.

Activists attack IDF soldiers (Credit: IDF Spokesperson's Unit)

The payment, which will be divided among the 10 families, comes some nine months after Israel pledged to provide the compensation, one of Ankara's conditions for the rapprochement deal reached between Israel and Turkey.

"Compensation has been paid to the families of those who lost their lives during the Mavi Marmara attack," Turkish broadcasters quoted Agbal as saying.

After relations between Turkey and Israel broke down in the aftermath of the incident, in June 2016 the two countries said they would normalize ties in a reconciliation deal driven by the prospect of lucrative Mediterranean gas deals as well as mutual fears over security risks in the Middle East.

The ship was boarded after repeated attempts to have it sail to the Israeli port of Ashdod so that their "humanitarian aid" could be sent to Gaza via the proper channels.

After the vessel was inspected after the incident, an investigative committee headed by Former Supreme Court Justice Ya'akov Turkel was established to examine the circumstances further. The committee's report, which came out in 2011, said that IHH activists cut the railings of the ship with circular saws to create steel rods with which to attack the soldiers, despite attempts from vessel's crew to stop them.

The captain of the ship reported that he was shocked by the "considerable number of weapons" which were on the ship.

Turkish President Tayyip Erdogan named a new ambassador to Israel in November last year, reciprocating a move by the Israelis, in a move towards restoring diplomatic ties between the once-close allies.