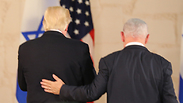 Netanyahu and Trump
Photo: Alexko
US official: rumors of Trump backing away from peace talks 'nonsense'
After Al-Hayat newspaper quotes a senior Palestinian official stating that Jared Kushner's report to President Trump on his recent meetings with Netanyahu and Abbas would determine whether he would pursue the 'ultimate deal', US official seeks to dispel any misinformation, dismissing the report as 'nonsense.'
A US official has categorically denied rumors suggesting that President Donald Trump is contemplating giving up on launching fresh peace talks between Israel and the Palestinians. "Reports that President Trump is considering pulling out of peace talks are nonsense," the official said.

The reports came on the heels of separate meetings last week between Jared Kushner, the special adviser and son-in-law of Trump, with Prime Minister Benjamin Netanyahu and with Palestinian Authority President Mahmoud Abbas, on how the two warring sides could advance peace.

A senior Palestinian official told Al-Hayat newspaper that Kushner was tasked with writing a report on his meetings which would determine whether or not Trump would proceed in his pursuit of what he has often described as "the ultimate deal."

According to the same Palestinian official, Kushner asked Abbas to present his vision for a political solution during the meeting, adding that he had asked Netanyahu to do the same.

Sources in the Palestinian Authority expressed disappointment with the meeting between Abbas and the American delegation, describing the meeting in Ramallah as unsuccessful and claiming that Kushner and his entourage simply presented a list of Israeli demands.