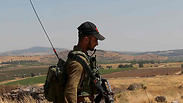 IDF soldiers at the Golan Heights
Photo: AFP
Fire exchanges between the Syrian army and opposition forces spilled over into the Israeli Golan Heights again on Sunday, even after the IDF's aggressive retaliation the previous day to 10 errant projectiles that fell inside Israel.

No one was hurt in Sunday's incident and no damage has been reported.

Sunday's projectiles fell near Quneitra, in the same area as the projectiles on Saturday. IDF forces are now searching the area in an effort to file the fallen projectiles. According to initial estimates, there were only a handful of projectiles that fell inside Israeli territory.

In a similar instruction to Saturday, the IDF has asked farmers not work at plantations near the border in the Quneitra area. Despite that, all roads remain open and there have been no other special instruction for the civilian population in the area.