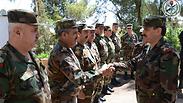 Al-Freij visits soldiers on the southern Syrian front
The Syrian army warned Israel on Sunday of the "dangerous repercussions" of its "aggressive activities" after the IDF retaliated against spillover fire in the Golan Heights for the second day in a row.

"After the Syrian army forces managed to thwart the wide-scale attack of terrorist al-Nusra … the Israeli enemy continued today to attack one of our military stations, in a desperate attempt to support terrorist organizations and boost their low morale," read a statement from the army of Syrian President Bashar Assad.

"The Syrian army general command warns against the dangers of these aggressive activities and lays the responsibility for the dangerous repercussions of these actions on the Israeli enemy, whatever its excuses may be. The general command stresses it is determined to defeat the terrorist organizations, the Israeli enemy's proxies in the region."


IDF hits Syrian traget (Photo: IDF Spokesperson's Unit) (Credit: IDF Spokesperson)

Meanwhile, photos were released in Syria of the alleged victims from the Israeli retaliation attacks, likely the one on Saturday.

Syrian Defense Minister Fahd Jassem al-Freij was sent on the orders of Syrian President Assad to visit soldiers celebrating the Muslim holiday of Eid al-Fitr in south Lebanon on Sunday, where he spoke about the civil war raging in the country for almost six years.

"Our brave, armed forces, in cooperation with our allies and friends, are more determined than ever to continue our war against the terrorist organizations and smash the illusions of those supporting them," said al-Freij. "Our fight will continue until we have returned stability and security to every grain of our homeland's soil."