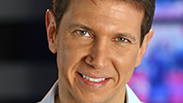 Dr. Ronen Bergman
Photo: Dana Kopel
Yedioth Ahronoth journalist Ronen Bergman and Haaretz columnist Yoel Marcus have been named winners of the 2017 Sokolow Prize for Journalism, awarded by the Tel Aviv-Jaffa Municipality.

Journalist Itai Anghel, a staff reporter for Channel 2's investigative and current affairs program "Uvda," and Channel 10's chief international correspondent Nadav Eyal, who writes op-eds for Yedioth Ahronoth, will be awarded the prize for electronic journalism.

The panel of judges on the journalism prize was led by journalist Ilana Dayan, alongside Prof. Amal Jamal, Army Radio Commander Yaron Dekel, Dr. Oren Meyers and journalist Shaul Amsterdamski.

The committee members decided to award the prize to Dr. Ronen Bergman "for a series of important and brave journalistic scoops published in Yedioth Ahronoth," they said in a statement, mentioning some of his notable stories: The situation at the Abu Kabir Forensic Institute; the exclusive interview with late Brigadier-General Yitzhak Yaakov, who was head of the IDF's weapons research and development program; the revelation of the dangerous smallpox vaccine scandal; the exposure of radio communication recordings during the Yom Kippur War; and the last conversations with late Mossad chief Meir Dagan.

Veteran Haaretz journalist Yoel Marcus will receive the Sokolow Lifetime Achievement Award.

The panel of judges on the electronic journalism prize was led by Prof. Mordechai Kremnitzer, alongside Prof. Haya Bar-Itzhak, Prof. Miri Gur Aryeh and journalists Amos Harel and Anat Tal Shir.

Nadav Eyal won the award for a series of outstanding reports in the past two years on issues relating to the influence of globalization, including a series of reports on the wave of Syrian refugees in Europe, as part of which he accompanied Syrian families on their journey. "Eyal innovated foreign news coverage by leaving the studio and going outside," the committee members wrote.

Itai Anghel was selected by the committee for his "outstanding journalistic work and for making battle zones and distant and urgent conflicts accessible to the Israeli viewer while taking on a significant level of personal risk."

The Sokolow Prize, in memory of Hebrew journalism pioneer Nahum Sokolow, is awarded by the Tel Aviv Municipality to encourage journalists who excelled in their journalistic work and left their mark on the profession. The awards are given for investigative reports and in-depth articles of special public importance and journalistic excellence, published in the two years before the award is granted.

Recipients of the award will receive a monetary prize of NIS 18,000 (roughly $5,000) in a ceremony that will be held in December in the presence of Tel Aviv-Jaffa Mayor Ron Huldai, the panel of judges and previous winners of the award.