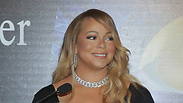 Mariah Carey at the Dead Sea Premier press conference
Photo: Shuka Cohen
Pop icon Mariah Carey has been selected as the new presenter for Premier Dead Sea, an Israeli cosmetics company, bringing her on a short visit to the Holy Land.

"I am very excited to be in Israel, to cooperate with the Premier Dead Sea and to celebrate with them 25 years of activity around the world," Carey said in a press conference on Monday.

"There are so many things I expect to do during my visit to Israel, such as experiencing the Dead Sea for the first time in my life. I look forward to seeing my six-year-old twins exposed to this wonder for the first time," she added.



"I am excited to host Mariah on this visit as she joins the Premier Dead Sea team, the unique international brand of grooming, in keeping young and fresh skin," said CEO Shachar Yuval.

"Our product range includes 400 different products, accompanied by hundreds of employees and a research team that includes renowned international experts in collaboration with laboratories, equipment and technology of the most advanced in the world. All these allow us to provide our consumers with proven scientific and medical benefits," Yuval added.



"We are pleased to have Mariah join us as we go from the lowest point on earth to the high peaks of the world's cosmetics," Yuval concluded.