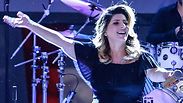 Sarit Hadad
Photo: Mark Von Holden
Israeli singer Sarit Hadad says she is proud of being afforded the opportunity to perform on Monday night at the UN as part of an event to mark 50 years since Israel unified Jerusalem in the 1967 Six-Day War.

"It was a special performance that sent a strong message and it was a great honor for me to represent the beautiful side of Israel," said the singer. "I felt proud."

Sarit Hadad performance

Wrapped in an Israeli flag, Hadad, who is in her sixth month of pregnancy, made her appearance at the UN headquarters in New York and performed a number of songs including, among others, the Israeli national anthem 'Hatikva' (The Hope) and 'Shema Yisrael' (Hear, O Israel).

The songs were performed in front of foreign diplomats from around the world. Hadad represented Israel in the 2002 Eurovision Song Contest and managed to clinch 12th place with her song 'Light a candle.'

Israel's Ambassador to the UN Danny Danon expressed his joy at the occasion marking Israel's unification. "I am proud to celebrate in the UN the unification of our eternal capital, Jerusalem," said Danon, who organized the event.