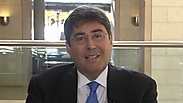 US Jewish leaders decry Israel's 'delegitimization' of non-Orthodox Jews
CEO of the Federation of Jewish Philanthropies of New York, Eric Goldstein speaks of the worrying rift created between US Jewry and Israel following the freeze of the Kotel agreement and the soon-to-be-voted-on Conversion Bill; 'At the end of the day, we desperately need Jewish unity, and this has exactly the opposite effect,' says Goldstein.
At the beginning of the week, the government froze the Western Wall agreement—a plan to construct a special egalitarian, gender-neutral prayer area at the Western Wall—and passed the Conversion Bill, preserving the monopoly of Jewish conversion by the Chief Rabbinate—which only recognizes Orthdox Judaism—as the government acquiesced due to pressure exerted by the ultra-Orthodox parties.

Since then, negative reactions from Jewish communities abroad have been increasing and escalating, speaking openly of a "rift with Israel" and its "betrayal of the Jewish world."

Interview with UJA CEO, Eric Goldstein (צלם אלי סגל ודניאל אליאור)

"The vast majority of American Jewish community does not identify as Orthodox and they are profoundly disturbed by the implication of these recent government actions," says Eric Goldstein, CEO of United Jewish Appeal—Federation of Jewish Philanthropies of New York (UJA), in an interview with Ynet on Wednesday.

"There could not be a more divisive (or) more angering action. At the end of the day, we desperately need Jewish unity, and this has exactly the opposite effect," added Goldstein.

The Orthodox rabbis here in Israel say that the Reform Jews and the Conservative Jews don't really care about the Kotel … (or) believe in its importance.

"I think there is a profound lack of understanding by many in Israel of the Jewish Reform and Conservative movements in America. The vast majority of the leaders of our federation (UJA) and a significant majority of the leaders of AIPAC (American Israel Public Affairs Committee) all come from the Reform and Conservative movements.

"They're proud Jews, and are enormously connected and devote their lives to supporting and strengthening the state of Israel.

"These are the very people, our leaders, who are being alienated by these recent government actions."

Do you have any logical explanation as to why (Prime Minister) Benjamin Netanyahu decided to bend?

"I can't purport to explain the actions of any government official. All I can say is that it seems to be putting the unity of the coalition ahead of the unity of the Jewish people, and the consequences for our community are dire.

"I can't overemphasize how damaging this is for American Jewry if this conversion legislation goes forward, particularly at a time when there's a growing divide between American Jewry and Israel. This will accelerate that divide, precisely at a time when we need the global Jewish community to be most united."

Correct me if I'm wrong, but it seems, from what you are saying, that the conversion issue is much bigger than the Kotel one.

"They are both incredibly disturbing actions for the American Jewish community, or at least the vast majority of them who do not identify as Orthodox. But I agree, I think the Conversion Bill really is a red line, and passing this bill will have a dramatically negative impact on the relationship between North American Jewry and Israel.

"Let's just understand what's at stake, given that the vast majority of the American Jewish community is Conservative and Reform, this bill says to them that they are not welcome in Israel, that their brand of Judaism is not authentic.

"How can you possibly expect people who support the State of Israel to stay committed when they are consistently being told that their way of Judaism is not an appropriate or legitimate way?"

What are your next steps?

"We are doing everything we can to make the case to the Israeli community and government officials to understand just how profound a step this will be.

"We are going to the Knesset today to meet with its members and make our case. We want to engage deeply with Israel. Our leadership deeply supports Israel, and we want to maintain that sense of unity, as this will have the exact opposite effect."

And what if you fail in doing that?

"This is a heartbreaking series of developments for the American Jewish community, and I can only hope that everyone comes together and recognizes what's at stake in these coming days."

It seems that Jews in the US and the State of Israel are heading towards a rift. Is that what you're saying?

"That is what I'm saying, and it's one that we desperately want to avoid.

"You have to recognize that there's already a growing divide between large segments of the American Jewish community that has accelerated over time. This will accelerate it that much further, precisely at a point when we need to try to reengage (with each other).

"Don't push us away. Don't slap us in the face and say that the brands of Judaism that are celebrated by the vast majority of the US Jewish community are not authentic, and that we can't come to Israel and feel welcome.

"We want to avoid that rift, and that's why we are so anxious to make our case to the government and to members of the Knesset, and we hope that they will, very swiftly, retract this conversion legislation and move forward with the Kotel agreement."