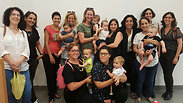 Lesbian mothers win legal battle
Photo: Smadar Benayoun
The Central District Court decided on Tuesday to give more rights to lesbian couples who want to expand their families, ruling that the wife of the biological mother will also be considered the child's parent from the moment of birth.

This followed a legal struggle by eight lesbian couples who had to endure difficulties steming from lack of their recognition as their children's parents.

To date, the biological mother's wife has been forced to apply to the court to recognize them as the child's parent after the birth.

The court checked each request on its merits and examined, among other things, the mother's ability to serve as a parent. The court usually approved these requests, but the ruling was made months after the baby was born.

Due to the non-immediate recognition of the spouse as a parent, damage to the normal life of the family was sometimes unavoidable.

For example, if the non-biological mother brought her child to the doctor, she was required to obtain a notarized certificate beforehand, a step that required both time and money. The court found that the non-biological mother's social rights were violated because she was considered to have no child.

In the case of separation between the spouses, the biological mother had no option to receive support from her partner, such as alimony; and, if the biological mother died, the surviving mother had no right to their child.

Two of the spouses who participated in the legal battle were Sarah Efrati Peltz and Dr. Lilach Efrati Peltz from Tel Aviv, mothers of two-year-old twin boys. "There is a clear, sharp and joyous ruling here. This is another step towards full equality," said Sarah. "The judges practically told the state, 'Why are you making it so unnecessarily difficult?'"

The couple's attorney said, "This is a precedent-setting ruling that is extremely important. The court, unlike the state, took into consideration the best interest of the child and his family unit."

The ruling does not include gay men raising children, as it ruled on spouses of biological mothers, but it is presumed that it paves the way for making similar rulings in such cases.