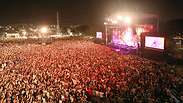 Yoter Festival
Photo: Tzalamim Beclick
From Thursday, June 29, to Saturday, July 8, a "week of appreciation" is being observed for IDF soldiers throughout the country, including performances and visits to army bases with gifts. A joint project of the Israeli military and a welfare organization, this week is the first such observance.

Two major shows for soldiers will take place. The Yoter festival, to be held on July 5, is to be the larger, providing performances to 20,000 . Performers will include Statik and Ben-El Tavori, Hadag Na'chash, Café Shachor Chazak, Natan Goshen and the military bands. Yoter is a recurring festival.

The following day, another musical event including Infected Mushroom, Hatikva 6, Eliad, Itai Levy and Adir Getz will take place at Tel Aviv's Ganei Yehoshua, Yarkon Park. Some 15,000 soldiers are expected.

The chairman of United for Israel's Soldiers, the organization behind the week, is Maj. Gen. (res.) Yoram Yair. He commented: "In addition to the ongoing activities that we hold for the benefit of IDF soldiers throughout the year, we are launching a new project that will enable tens of thousands of individuals, businesses and authorities to express their appreciation to IDF soldiers. The IDF is an essential element of our country, reflecting the character and identity of Israeli society. This week is an act of gratitude for their vital role in the future of the country".

Throughout the week, businesses across Israel will offer soldiers significant benefits. Special mobile volunteer units will visit the bases throughout the country and will offer treats to the soldiers. Battalions that are adopted by "Adopt a Fighter" will receive special gift sets. Volunteers will set up special stations to distribute refreshments at IDF bases, funded by various organizations, including the International Fellowship of Christians & Jews, UK friends of the Association for the Wellbeing of Israel's Soldiers, and the Friends of the IDF in the United States and Panama.

Additionally, volunteers will visit hospitalized soldiers, prepare parcels and write letters to soldiers together with schoolchildren. Kaveret, a chain of convenience stores for soldiers, will distribute snacks through its mobile volunteer units, which will reach the most remote outposts. They will also sell a variety of products at a subsidized price of only one shekel.