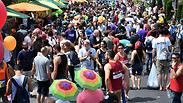 Haifa Pride Parade
Photo: Haifa municipality
Some 3,000 attend Haifa Pride Parade
'An insane amount of people came, a lot more than last year, and you can see an increase in awareness,' says one parade goer; another explains the parade is part of the struggle for equal rights, 'The fact I love girls doesn't mean I don't deserve to get married in Israel.'
Over 3,000 people participated at the 11th annual Haifa Pride Parade on Friday afternoon, celebrating the opening of the Communities' House, a center for the LGBT community in the City

Participants marched from the Karmeliya neighborhood to Gan HaEm, making their way through the Carmel Center neighborhood. They were accompanied by trucks with dancers and DJs and led by Mayor Yona Yahav.

The Haifa municipality decorated Moriya Boulevard and HaNassi Boulevard with pride flags, a long flag was put on the city hall building, and some of the street crossings in the area were painted in the colors of the rainbow.

"This is an incredible parade," said David, who is participating in the Haifa parade for the third year. "An insane amount of people came, a lot more than last year, and you can see an increase in awareness. We have the Communities' House, and they're doing incredible work here in Haifa. We came to celebrate who we are, celebrate and love whoever you want. It's the most natural thing in the world."

At the end of the march, participants enjoyed an event at Gan HaEm, with attendees sitting on the grass with their partners and families, watching performances by different artists.

Sapir, 20, said the parade is an important part of the LGBT community's struggle for equal rights, "so we can have a normal life here, like the straights. The fact I love girls doesn't mean I don't deserve to get married in Israel, or have similar rights."

She rejected the claims the parade was provocative, saying the march and its visibility are important. "Performances, dancing and joy are not a bad thing. It's a good thing, at the end of the day, and I'm all for it," Sapir said.

Naturally, the drag queens got all of the attention with their wigs, cleavages and sparkly outfits.

Yarden On-Cipralex, who said she chose that name because "everyone needs a little something against depression," was the most prominent among them. "Today's parade was amazing. It was so much fun to march, see everyone smiling and enjoying themselves, my parents having fun with everyone else, the overly-kitsch group, groups from IGY (Israel Gay Youth), our youth, and all of the families who came to show their support. It was truly amazing."

She went on to say that, "The LGBT community in Haifa is very diverse: there are gays, lesbians, bisexuals, trans, a-sexual, pan-sexual, omni-sexual, multi, gender queer, everything. We all live in love, loving one another, keeping each other strong, promoting our struggle.

"Throughout the years the situation has definitely changed. Today, a gay or a lesbian doesn't have to leave Haifa for Tel Aviv. There are those who still do that, but some return to us."