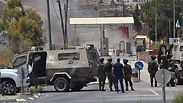 IDF after bomb defusal
Photo: TPS
IDF soldiers have destroyed a memorial in Jenin to Khalid Nazzal, a leader of the Democratic Front for the Liberation of Palestine (DFLP) terrorist group who was responsible for a deadly terror attack in the northern town of Ma'alot in 1974.

Nazzal was in killed in 1986; Palestinians believe he was murdered to avenge the Ma'alot attack but Israel has never commented on the killing.

Palestinian media reported that one Palestinian opened fire on the IDF while they were demolishing the monument, but no injuries were reported.

Last month, the Palestinian Authority created the memorial to Nazzal and renamed a public square in the city in his honor. Palestinian Media Watch, an Israeli NGO, reported that Jenin Deputy Mahmoud Abu Mwais told participants in the dedication ceremony that "our leadership and our people will continue on the path of the martyrs."

The Ma'alot attack, one of the deadliest terrorist offensives in Israeli history, began when three Palestinians infiltrated the country from Lebanon and took 115 Israelis hostage, mostly high school students from Tzfat who were camping at the Netiv Meir Elementary School as part of a school field trip.

The hostage-takers demanded the release of 23 terrorists from Israeli prisons and threatened to kill the hostages if their demand was not met. After two days, soldiers from the IDF Golani Brigade stormed the building; 25 hostages, including 22 children, were killed, and 68 more were injured in the incident.

Article reprinted with permission from TPS .