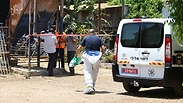 The house in Elishema
Photo: Avigail Uzi
IDF officer suspected of staging own death as terror act
After a lt. col (res.) is found stabbed in own home with 'Death to Jews' written in Arabic, attack initially suspected to be nationally motivated; investigation later refutes this, raising suspicion the man had tried to stage his own death to look like an act of terror.
Breaking: A 52-year-old lt. col. (res.) who was found stabbed in his own home last May is suspected of orchestrating the entire scenario in an attempt to make his own death look like the result of an act of terrorism. The officer, who survived the incident, was abroad as the story broke and is to be questioned on the matter upon his return.

The incident in question took place in mid May, when the alleged victim did not show up for work. His absence caused concerned friends to call his landlord, who rented the man a housing unit of his in Moshav Elishema in the central Sharon region. The landlord sent his son to check in on his tenant, and it was then that the man was found in his home, stabbed and lying in his own blood. He was rushed to the hospital for treatment.

A large police force arrived on the scene and began an investigation into the apparent attack. After police found "Death to Jews" scrawled inside the house, it was suspected that the attacker had acted out of nationalistic motivations. The police then set up blockades in the area and conducted searches that also relied on helicopter assistance.

In addition to seeing it as a possible terrorist attack, police tried to figure out whether the attack was criminally motivated, due to claims that the injured man was surprised by the attacker, who had broken into his home before stabbing him.

Though the injured party had repeatedly claimed he did not recognize his attacker, further investigating found evidence that contradicted both the victim's statements and the condition of his injuries.

Eventually, the police ruled out both that the attack was nationally or criminally motivated, as a new suspicion suggested that the man injured in the event had actually tried to stage his own death or end his life. He will be questioned under warning of giving false information.