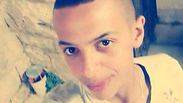 Mohammed Abu Khdeir
Photo: Reuters
High Court rejects petition to demolish homes of Abu Khdeir killers
Retired judge Rubinstein decides not to grant petition filed by family of Palestinian teen who was burned alive by Jewish terrorists; Hussein Abu Khdeir, the victim's father, accuses court of 'discrimination and racism,' says family will take case to international court.
The High Court of Justice determined Tuesday the homes of the Jewish terrorists convicted of kidnapping and murdering Palestinian teenager Mohammed Abu Khdeir will not be demolished.

The High Court rejected a petition by the Abu Khdeir family demanding convicted murderers Yosef Haim Ben-David and two minors receive the same punishment given to families of Muslim terrorists.

Retired judge Elyakim Rubinstein ruled "the petition should not be granted, first and foremost given the considerable delay between the abominable act of murder and the petition's submission."




Rubinstein noted, however, that regulation 119—which allows ordering the demolition of a home where suspected terror activity occurred or a home of terrorists, their accomplices or supporters—applies both to Arab terrorists and to Jewish terrorists.

"All in accordance with the circumstances of time and place, which were set forth in a ruling on the use of the regulation," he wrote in his ruling. "Let sinners cease out of the earth, so we can soon stop using regulation 119 on any of our countrymen, both Jews and Arabs."

Judge Neal Hendel added that while "we can understand how the victim's family feels... we are dealing with a deterrent and not punitive measure. It should be remembered that the perpetrators were given lengthy prison sentence."

Regarding Jewish terrorists, whom Hendel defined as "a minority of a minority of a minority," the judge determined "the legal solution to this issue, whatever it may be, is not enough, and in any case is not the only solution... to prevent such cases from happening in the future."
'An Arab's home would've been demolished within days'
Hussein Abu Khdeir, the slain teenager's father, criticized the decision, asserting that "if this was an Arab who murdered a Jew, his home would've been demolished within days. If they don't want to demolish the Jewish terrorists' homes, then they shouldn't demolish any homes. This is discrimination and racism. Such a decision encourages (others) to continue hurting us, under the auspices of the state."
Hussein said the family intends to take legal measures against the decision, "we'll turn to an international court so we could get a decision that could punish the terrorists."
In its response to the petition, the state said it does not see fit to demolish the homes of Jewish terrorists, but noted the measure would be considered if there were a sudden sharp increase in terror acts carried out by Jews.
Abu Khdeir's murder sparked a wave of terrorism in Jerusalem. Ben-David and two minors, who were both convicted for their role in the murder, abducted the 16-year-old teenager and killed him after the funeral of the three Jewish teens Gil-Ad Shaer, Naftali Frenkel and Eyal Yifrach, who were kidnapped and murdered on June 12, 2014. A day earlier, the three defendants tried to kidnap seven-year-old Moussa Zaloum while he was walking down the street in Beit Hanina with his mother and two brothers.
According to the conviction, in the late evening hours of July 2, 2014, Ben-David and the two minors, after making preparations and equipping themselves in advance, headed out to commit the "revenge attack" in memory of the three yeshiva students.
They searched for a suitable victim for three hours in the neighborhoods of Wadi al-Joz and Beit Hanina in East Jerusalem until, around 4am, they saw Mohammed Abu Khdeir on his way to the mosque for morning prayers.
After snatching him, and while driving towards the Jerusalem forest, the two minors held onto Abu Khdeir, who struggled and tried to free himself, leading Ben-David to order one of them: "Finish him." The minor then strangled Abu Khdeir, until the latter lost consciousness.
When they reached the Jerusalem forest, one of the minors angrily told Ben-David that they "were doing all the work," following which Ben-David took a crowbar and started hitting Abu Khdeir with it, yelling "This is for the Fogel family, this is for Shalhevet Pass" (victims of terror attacks perpetrated by Palestinians) until the Palestinian teen started bleeding from his head. Ben-David also kicked Abu Khdeir several times while yelling "This is for Gil-Ad, Naftali, Eyal."
The three then set Abu Khdeir on fire while he was unconscious, and then fled the scene. They destroyed the evidence at Jerusalem's Sacher Park, and then went to Ben-David's home, where they played guitar and then went to sleep.
In May 2016, Yosef Ben-David was sentenced to life (25 years) and a cumulative punishment of an additional 20 years in prison. One of the minors was sentenced to "only" 21 years in prison after judges determined that he played a "minor role" in the murder, while his accomplice received a life sentence.