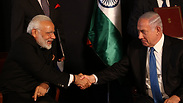 Modi and Netanyahu
Photo: Ohad Zwigenberg
Modi Oparendi: India and Israel sign cooperation agreements
'We're making history together,' says PM Netanyahu to Indian counterpart Modi as the two sign 7 cooperation agreements between the two countries, including closer ties in space development, two water agreements, cooperation over national security and a $40 million industrial R&D fund.
Prime Minister Benjamin Netanyahu and his Indian counterpart Narendra Modi signed Wednesday seven agreements of cooperation between Israel and India in the fields of technology, water and agriculture.

Netanyahu said the new cooperation agreements mark a "match made in heaven" as he stood alongside Modi. "We're making history together," Netanyahu told Modi. "I have a feeling that on this day, India and Israel are changing parts of our world."

The agreements include three deals regarding closer ties in space development, two water agreements, cooperation over matters of national security and a joint, $40 million industrial research and development fund.

Wednesday's agreements are the centerpiece of Modi's three-day visit to celebrate 25 years of diplomatic relations and strengthen his country's already close ties with the Jewish state.


During the Cold War, India didn't have open relations with Israel, leaning heavily in favor of the Palestinians. But over the past quarter century, the countries have developed close ties in areas of hi-tech and defense.

Modi will hold talks with Netanyahu, tech companies and the local community of Indian Jews. His schedule does not include any meetings with Palestinian officials.




During a joint press conference on Tuesday evening, Netanyahu spoke of the similarities between the two nations, adding that "Together, (Israel and India) account for about 20 percent of the world's population. But although we are unequal in size, we're equal in spirit. We believe we can accomplish great things. We have accomplished great things and we have many many more opportunities to seize together in the future.

"But I have to say that we also face common challenges and the first of it is to defeat the forces of terror that rampage through the world and threaten both our countries. So we must stand together in this battle, much as we work together to perfect the future."

Modi met with President Reuven Rivlin earlier Wednesday, telling him, "Israel is a real friend... I feel absolutely at home here."

Rivlin responded in kind, saying, "It has only been eight months since I visited your country, I can never forget our visit because we found a really strong nation, with strong ideas and with strong wishes, and I must say with all the respect that I have, and the pleasure that I have, that you are one of the greatest leaders of democracies in the world at this time. And we appreciate very much your visit to Israel."