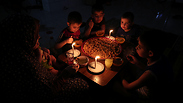 Palestinians in Gaza
Photo: AFP
The majority of the Palestinian public is opposed to actions being made by the Palestinian Authority (PA) in the West Bank and by Hamas in the Gaza Strip, fearing they could lead to further separation between the two territories, according to a new survey conducted among the Palestinian population.

The survey was conducted by the Konrad Adenauer Foundation and the Palestinian Center for Policy and Survey Research of Dr. Khalil Shikaki and interviewed Palestinians from the Gaza Strip, West Bank and east Jerusalem.

Among one of the most important issues facing Palestinian society today is the matter of electrical power. According to the survey, 84% of respondents oppose the PA's decision to stop paying Israel for the electricity it supplies to the Gaza Strip. Additionally, 88% of Palestinians expressed opposition to PA salary cuts to Hamas government officials in the Gaza Strip.

40% of Palestinians believe these two moves by the PA are meant to put Gaza under economic strain in the hope that it well lead to an uprising against Hamas. Furthermore, respondents indicated that the punitive measures will not lead to reconciliation between the two governing entities.

In regards to Hamas, 50% of respondents indicated that if Hamas comes to a power sharing agreement with Mohammed Dahlan in the Gaza Strip, a total separation between the West Bank and the strip will occur.

Additionally, regarding Hamas elections, 43% believe that the election of Ismail Haniyeh and Yahya Sinwar will lead to an escalation of violence between Israel and Hamas, while 31% of respondents think that their election will reduce the chances of intra-Palestinian reconciliation. 25% believe the election will strengthen the chances of ending the split.

It is worth noting that the vast majority of Palestinian society does not believe the split will end in the near future.

The survey shows a significant decrease in support for an armed intifada. Three months ago, support stood at 51%, while today, only 39% support violence. Interestingly, more than half of the respondents said they support nonviolent resistance.

However, even after US President Donald Trump's visit to the region, half of respondents believe that relations between Israel and the PA will continue to deteriorate, while a third believe that relations will remain the same.

In terms of general issues in Palestinian society, 91% of respondents believe payments to the families of terrorists should not be stopped, which could lead to tension with the PA, which is under intense US and Israeli pressure to halt the practice.

In regards to the recent Palestinian hunger strike, the public believes the strike was only partially successful, yet strengthened the status of Marwan Barghouti, who many believe to be the best candidate to replace Abbas, who continues to be unpopular with the public. Two-thirds of respondents still want him to step down.