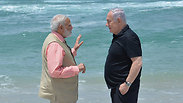 Netanyahu and Modi
Photo: Kobi Gideon/GPO
Indian PM Modi bids Israel farewell in Hebrew
Indian PM Narendra Modi leaves Israel after a successful three-day visit; on Thursday, he paid homage at a British cemetery in northern Israel to Indian soldiers who died in the battle to liberate Haifa during World War I, took a stroll at the beach with PM Netanyahu and met with CEOs of Israeli and Indian companies,
Indian Prime Minister Narendra Modi left Israel at the end of a three-day visit on Thursday afternoon, but not before bidding the people of Israel goodbye in Hebrew on his Twitter page.

"I thank the people and Government of Israel for their hospitality. This successful visit will add more energy to India-Israel relations," he wrote in both Hebrew and English to his 31 million followers.

Prime Minister Benjamin Netanyahu bid Modi farewell with a hug and a tweet of his own in Hindi, saying he was happy for the visit and hoping to meet with Modi again soon.

Modi leaving Israel (צילום: ניצן דרור)

Netanyahu and Modi had a busy day on Thursday, flying in a helicopter from Jerusalem to Haifa to visit the British military cemetery in which Indian soldiers from World War I are buried.

At the cemetery, they laid flowers on the soldiers' memorial and unveiled a plaque in memory of the Indian soldiers who fell in the battle to liberate Haifa.

Netanyahu and Modi on the beach (צילום: לע"מ)

Both leaders signed the guestbook as they paid tribute to the soldiers. "In the memory of the brave soldiers of India who helped liberate our land. In deepest respect, Benjamin Netanyahu, Prime Minister of the State of Israel," the Israeli premier laconically wrote.

Modi was more forthcoming with his words.

"I am deeply honored to stand here today to salute the valiant Indian soldiers, who laid down their lives for the liberation of Haifa in the First World War," he wrote.

"The exceptional bravery and supreme sacrifice of Major Shakur Dayat Singh, the 'hero of Haifa', and his men will be remembered forever and continue to inspire generations to come. Next year, the century of the Battle of Haifa will present another opportunity to mark this enduring bond between India and Israel. Jai Hindi.

Visit to the cemetery (צילום: אדריאן הרבשטיין)

After the short ceremony, Modi and Netanyahu headed to a beach in Givat Olga located in the nearby city of Hadera and even dipped their feet in the waters of the Mediterranean Sea.

There, they attended a demonstration of a Galmobile desalination unit capable of supplying drinking water for 22,000 people per day and were briefed by the G.A.L. Ltd managing director. Both were given a chance to taste water that had been desalinated on the spot.

At the conclusion of the brief trip to northern Israel, Modi and Netanyahu made their way to Tel Aviv where the Israeli prime minister had to excuse himself to take a phone call from Russian President Vladimir Putin.

Netanyahu and Modi later met at the Dan Hotel in Tel Aviv with the CEOs of Israeli and Indian companies in the context of the launch of an Israeli-Indian CEOs' forum to be chaired by Manufacturers Association President Shraga Brosh.

According to a statement released by the Federation of Indian Chambers of Commerce and Industry (FICCI), 12 agreements worth as much as $4.3 billion were signed between Indian and Israeli companies at the first meeting of the forum, a joint venture with the Manufacturers Association of Israel (MAI).

"There was a consensus that the current trade volume amounting to just over $4 billion has the potential to reach $20 billion in the next five years. To realize this goal, the forum underlined key recommendations to two heads of states," the FICCI said in a statement.

On Wednesday, Israel and India committed $4 million a year each over a five-year period to set up the Israel India Innovation Initiative Fund, or I4F.

The fund is modeled on the The Israel-United States Binational Industrial Research and Development (BIRD) Foundation which has invested in more than 900 project since being founded in 1977 with an endowment of $30 million each from Israel and the US. BIRD has provided more than $300M in grants leading to $10 billion in direct and indirect revenues.

After the event a joint lunch was held, at which the CEOs presented their products. Afterwards they visited an innovation exhibit that included presentations by six Israeli companies and four Indian companies



"Innovation is life. Israel is the 'innovation nation,' so is India," said Netanyahu. "Together we have tremendous potential, potential not only in markets but in creating new possibilities, new opportunities ... Around this table, on the Israeli side are people who run some of our most important companies, and they do so with great talent and with great skill. You have brought similar people from India."

On Wednesday, some 10,000 members of the Indian community in Israel welcomed Modi at an event in honor of his visit to Israel at the Tel Aviv Convention Center.

TPS contributed to this story.