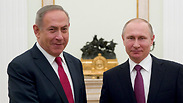 Netanyahu and Putin
Photo: EPA
Israel is pressing the United States and Russia to secure a demilitarized zone in southern Syria where Hezbollah and other militant organizations backed by Iran will not be able to operate, according a report in the British Times Thursday.

According to the report, Israel is also closely following the talks between the United States and Russia in Amman in regards to the future of southern Syria.

Prime Minister Benjamin Netanyahu and Russian President Vladimir Putin even spoke on the phone on Thursday. According to the Kremlin, Netanyahu requested the phone call and the two leaders continued their exchange of views on Russian-Israeli cooperation.

In regards to joint efforts to combat international terrorism, the Kremlin reported that the two leaders discussed the situation in Syria and the Middle East.

Lieberman tours northern border (צילום: עדן מולדבסקי/משרד הביטחון)

The Times also reported that the proposed demilitarized zone will be roughly 50km east of the Israeli border towards the city of Daraa—which is reportedly at the center of US-Russian talks—and onward to the city of As-Suwayda.

Israel is worried that Hezbollah and other hostile militant groups will take up position in southern Syria close to the border. As such, according to the report, Israel is supplying weapons to rebels and attempting to gain support among Syrians by providing humanitarian aid and medical care to wounded rebels and civilians.