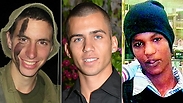 L to R: Goldin and Shaul, beleived to be dead, and Mengistu, believed to be alive
Report: Israel, Hamas close to prisoners exchange deal
A reporter close to Hamas claims Israel Hamas are about to conduct 1st stage of prisoners exchange deal, in which 3 Israelis Abera Mengistu, Hisham al-Sayed and Juma Abu Anima, and the bodies of Sgt. Oron Shaul and Lt. Hadar Goldin, will be returned to Israel.
Israel and Hamas are reportedly close to finishing up an intel exchange over the bodies of Israeli soldiers and living Israelis held in the Gaza Strip, as part of a two-stage prisoners exchange deal, according to an Arab reporter at Lebanese newspaper Al Akhbar, known to be close to the terrorist organization.
The deal is reported to include the bodies of Lt. Hadar Goldin and Sgt. Oron Shaul, believed by Israel to have been killed during Operation Protective Edge in 2014, and three living Israelis who had entered Gaza over the past few years: Abera Mengistu, Hisham al-Sayed and Juma Ibrahim Abu Ganima.
According to said reporter, the first part of the deal—which is supposed to take place in three months—will resemble the Israel-Hamas deal for IDF soldier Gilad Shalit, from 2009, in which a video of Shalit was first released by Hamas, in exchange for the release of 25 female Palestinian prisoners.
Hamas is demanding as an initial stage that all Palestinian prisoners held in Israel, who were released as part of the Gilad Shalit deal and then arrested once more by Israel, be freed. Further, the terror group is also demanding that women, teenagers and Palestinian parliamentarians imprisoned in Israel be released as well.
In a rather cryptic statement, sources within Hamas further claim that "in addition to the two soldiers Oron Shaul and Hadar Goldin, the organization holds something that could bring to the release all the prisoners held in Israeli prisons."
In exchange, Hamas said it will be willing to release information on the fate of Israelis held in Gaza.
It should be noted that while Israel does not believe that Shaul and Goldin are still alive, Hamas has insisted over the years the two survived the battles in which they were individually captured.
If the deal is struck, its first stage is expected to be implimented within the next three months. Russia, Egypt and UN Envoy to the Middle East Nikolay Mladenov are all believed to have served as go-betweens during the deal's negotiations.
According to the Arab reporter who broke the story, while Israel has voiced its agreement on the first part of the deal, which includes handing over information on the Israelis held in Gaza, it is reticent to sign off on the second past of the deal, which reportedly carries a heavy price. Hamas believes that having agreed to the first stage, Israel will eventually agree to the deal in its entirety.
One point of contention is the release of 53 Palestinian prisoners who were released by Israel as part of the Shalit deal but imprisoned again after once more standing trial. Though Israel has agreed to release all other Palestinian prisoners, it is insisting that the 53 who are held for new offenses remain in prison, at least during the first prisoners exchange. Hamas, however, is insisting that they, too, be released during the first stage.
Last April, then-leader Khaled Mashal issued a statement saying Hamas will not negotiate over the release of Israelis held by it until all Palestinians imprisoned after being released during the Shalit deal be released once more. "One of the obstacles standing in the way of a new deal is Israel ignoring of its responsibilities," he added.
Hamas sources further stated that any future deals between the organization and Israel will include the release of convicted terrorist and Hamas leader Marwan Barghouti, who was recently caught on tape breaking a hunger strike he helped lead.
Ahmad Sa'adat, a leader of terrorist group the Popular Front for the Liberation of Palestine, is also stated to be included in any and all future prisoner release deals. Hamas sources added that it is also working on the release of prisoners from east Jerusalem and Israeli Arab citizens.
A source in the Prime Minister's Office declined to comment on the matter, while other inside sources denied the report. According to those inside sources, there has been progress in talks recently, but it was not a significant one and negotiations are still far from a breakthrough. The sources added that a deal would not include the release of prisoners for information only.
Members of Oron Shaul's family responded to reports of an impending prisoner exchange deal with Hamas, saying, "We were made aware of developments only through the media, and we have no idea if the information is correct."
Family members added that in the coming weeks, Israelis will mark three years since Operation Protective Edge, "but for us, the operation has not ended since our lives became hell. We are begging the prime minister: don't leave Sgt. Oron Shaul, a Golani fighter, in Hamas captivity. Just as you knew to send him on an armored personnel carrier to protect Israeli citizens, you should also know how to bring him home."
Hadar Goldin's family also commented on the reports, saying, "During the past three years, we have known a great deal of suffering and disappointment regarding the return of our son and brother Hadar back to Israel, to the family. We continue our efforts to convince the Israeli government to change the equation and make the holding of IDF soldiers and Israeli citizens a liability to Hamas, instead of an asset."