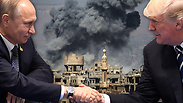 Trump and Putin shake hands, with a Syiran battle in the background
Photo: AFP
A Syria ceasefire agreed upon the United States and Russia goes into effect Sunday at noon Damascus time. This according to US officials and the Jordanian government, which is also involved in the deal. The US officials were not authorized to speak publicly on the matter and demanded anonymity. A spokesperson for the Jordanian government confirmed the ceasefire, with another source telling the Associated Press that Israel briefed on the developing deal by the US.

Ever since civil war broke out in Syria, there have been repeated spillovers of mortar fire and other forms of ammunition from Syria into Israel, as recent as last week, with Israel then retaliating.

The former Cold War foes have been backing opposing sides in Syria's war. Moscow has staunchly backed Syrian President Bashar al-Assad, supporting Syrian forces militarily since 2015. Washington has backed rebels fighting Assad. Sunday's truce would also prevent further advances by forces under Iran's command, including Lebanon's Hezbollah militia.

US Secretary of State Rex Tillerson said the cease-fire in southwest Syria is designed to reduce violence in an area near Jordan's border that is critical to that US ally's security.

Trump and Putin (צילום: רויטרס)

Tillerson stated the agreement with Russia on a cease-fire in Syria is "our first indication of the US and Russia being able to work together" there. He discussed the nearly two-and-a-half hour meeting Friday between Presidents Donald Trump and Vladimir Putin, saying they talked about the current nature of relations between the two countries as well as the future of that relationship.

The area covered by the ceasefire affects Jordan's security and what Tillerson calls a very complicated part of the Syrian battlefield.

Tillerson expressed his hopes that the ceasefire will be expanded to other regions in Syria. He stressed that the US still posits that Assad has no place leading Syria in the long run, and that as some point he and his family will have to give up their rule.

The ceasefire is an unusually pro-active step for the US, whose past attempts to bring about an end to the bloodshed in Syria focused more on backing the rebel forces attempting to take down Assad's army. Previous agreements aimed at a ceasefire were led by turkey, Iran and Russia, with the latter being a consistent supporter of Assad's regime. Both the US and Russia oppose the Islamic State group's presence in Syria.

The truce is to be monitored through satellite and drone images as well as observers on the ground, a senior Jordanian official said Saturday, speaking on condition of anonymity because he was not authorized to discuss details with reporters. Syria ally Russia is to deploy military police in the area. Israel is expected to watch for truce violations.

Israel has repeatedly said it will not allow Iran to set up a permanent presence in Syria. Israel has carried out a number of airstrikes in Syria against suspected shipments of "game-changing" weapons bound for Hezbollah.

"The question and concern is of course if it will be exploited by the Syrian regime, Hezbollah and Iran to create new facts on the ground," said Chagai Tzuriel, the director general of Israel's Intelligence Ministry.

Ahead of Friday's truce announcement, Jordanian and Israeli officials expressed concerns about Iranian ambitions.

The Jordanian official said the international community, regional powers and Jordan would not tolerate the creation of a "land line all the way from Tehran to Beirut."

Such a "Shiite crescent" would disrupt the regional balance and be considered a "super red line," he said, referring to rival Sunni and Shiite Muslim political camps led by Saudi Arabia and Iran, respectively.

Jordan previously raised concerns about Iran in talks with Russia, the official said. The Assad government surely received the message, he said, adding that it's unclear how much influence the Syrian president has over his allies.

A successful truce could pave the way for talks about Syria retaking control of border crossings with Jordan that it lost to rebels during the war, the Jordanian official said.

In comments earlier this week, Tzuriel raised three points of concern, including the Hezbollah presence near the Golan and efforts by Iran in Lebanon to build what he said is an "indigenous missile production and upgrade capability."

He also noted last month's linkup of forces belonging to the Iranian axis, including Shiite militias, coming from both sides of the Syrian-Iraqi border, near Jordan. This raises concern that control of parts of the border will allow Tehran "to realize its strategic aim of completing an overland continuum from Iran through Iraq and Syria to Lebanon," he said.

"These are threats which should concern all parties who are interested in stabilizing Syria and the region, including the United States and Russia," he said.

The truce deal, the first such agreement between the Trump administration and Russia, could help the US retain more of a say over who fills the power vacuum left behind as Islamic State is routed from additional territory in Syria.

Washington has been resistant to letting Iranian forces and their proxies gain strength in Syria's south. In recent weeks, US forces have shot down a Syrian aircraft that got too close to American forces as well as Iranian-made drones.

The British ambassador to Jordan, Edward Oakden, said Russia has an important role to play.

"It's obviously incumbent on the Russians to bring pressure to bear on both the (Syrian) regime and the Iranians, and on the regime's Hezbollah allies, to respect the spirit and the letter of this cease-fire and to contribute actively to the establishment of a de-escalation zone, rather than, as it appears, seeking to undermine it," he said in an interview Friday.

Analyst Ahmad Majidyar, who monitors news sites linked to Iran's powerful Islamic Revolutionary Guard Corps (IRGC), said it seems Iran will only deepen its presence.

The Iranians and their proxies "have increased their activities in southern Syria," said Majidyar, director of the Iran Observed Project at the Middle East Institute, a Washington think tank.

Objectives include carving out the land corridor from Tehran to the Mediterranean, challenging the military presence of the US and its allies and opening a new front against Israel once the fight against Islamic State is over, he said.

Earlier this week, the British Times reported that Israel has been pleading with the US and Russia to erect a demilitarized zone in southern Lebanon, without the presence of Hezbollah or other Shiite militias. Israeli officials were later quoted as saying that Israel will not allow Iran or Hezbollah and its affiliates to situate themselves along its northern border.