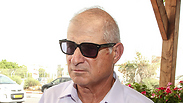 Attorney David Shimron
Photo: Yariv Katz
PM's personal lawyer questioned in submarines investigation
David Shimron, a close confidant of Netanyahu who represented Israeli businessman Miki Ganor in the deals with ThyssenKrupp, faces a plethora of suspicions in the case, including involvement in negotiations and discussing the matter with government officials.
David Shimron, the personal attorney and close confidant of Prime Minister Benjamin Netanyahu, has been questioned by police as part of investigations into corruption surrounding the procurement of submarines and patrol ships from German conglomerate ThyssenKrupp, it was cleared for publication on Wednesday morning.

Police suspect a series of crimes was committed surrounding the two deals, including bribery and money laundering.

Other central suspects include Miki Ganor, a close associate of Prime Minister Benjamin Netanyahu and a representative of ThyssenKrupp in Israel, whose remand has been extended until Thursday; Avriel Bar-Yosef, who served as the acting-national security advisor, whose remand has also been extended until Thursday; and former Navy commander Maj. Gen. (res.) Eliezer Marom, who was put on house arrest on Tuesday.

Shimron, 65, is a relative of Netanyahu and has been serving as his personal attorney since 1988. He was put on a three-day house arrest starting Monday.

Amit Hadad, Shimron's lawyer, said that "despite the complicated situation, both personally and professionally, attorney Shimron feels relieved to a large extent to have finally been given the opportunity to present his full version to law enforcement authorities. Attorney Shimron has been acting in accordance with the law. He has fully cooperated with his investigators and is confident law enforcement authorities will reach the same conclusion."

The case came to light in November 2016, when it was reported police were investigating suspicions of tender bias in the procurement of submarines and patrol ships from ThyssenKrupp, bribery and a conflict of interest.

Shimron represented Ganor in the two deals, which amount to some NIS 10 billion ($2.8 billion).

The prime minister has denied he had any knowledge that Shimron was involved in the submarine deal, but did release a statement in November in support of Shimron. "Netanyahu has been acquainted with advocate David Shimron for many years and knows him to be a man of integrity who is as straight as a ruler, who goes beyond what is required to abide by the law and follow statutes and as a lawyer of the first order," the statement said.

In March 2017, Shimron gave his testimony to police on two different cases Netanyahu is being investigated for, but while those were defined as "open testimony," he was questioned in the submarine affair, also known as Case 3000, under caution.

Intially, Shimron claimed he had never discussed the submarine issue "with the prime minister or with any other government official." However, it was later revealed he did contact the Defense Ministry's legal advisor Ahaz Ben-Ari in 2014 asking for a status report on an international bid issued by the Ministry of Defense for the acquisition of vessels to protect Israel's natural gas rigs. ThyssonKrupp wanted the deal without having to bid.

State Attorney Shai Nitzan decided in late February 2017 to launch a full criminal investigation into the case, while stressing Netanyahu himself was not a suspect.

The German government later confirmed Shimron was present at a meeting in Tel Aviv between Ganor and German Ambassador Clemens von Goetze in December 2015. The meeting was held two months after Netanyahu, accompanied by then-National Security Advisor and current director of the Mossad Yossi Cohen, went to Berlin to meet with German Chancellor Angela Merkel and discuss, among other things, the possibility of Israel purchasing three submarines.

Meanwhile, leading German economic newspaper Handelsblatt reported that Shimron was present in at least one meeting Ganor had with representatives from ThyssonKrupp. In response to the report, ThyssenKrupp claimed that Ganor is its sole representative in Israel, and that he had breached the terms of his contract with them when he involved Shimron in the proceedings. Despite this, the sources claimed that ThyssenKrupp does not at present have concrete evidence of wrongdoing by Ganor, though the company has issued a statement saying that following Israeli reports, it will launch an investigation of its own into the matter.

It has also been reported that Shimron and Ganor attempted to outsource the maintenance work on the submarines to a German shipyard, pressuring the Israeli Navy and the workers' unions. In a letter to the IDF Workers Union, chairman Moshe Friedman confirms that Ganor and Shimron met with him and with Avi Nissenkorn, the head of the Histadrut Labor Federation, to pressure them against trying to foil the efforts to outsource the maintenance work.

Germany's national security council has approved a deal to sell three further nuclear-capable submarines to Israel, with magazine Der Spiegel reporting Germany had inserted a clause into the contract giving it the right to tear it up if corruption allegations were proven.
Ya'alon 'absolutely' believes Netanyahu will be indicted
Former defense minister Moshe Ya'alon only learned of the deal to acquire the submarines in February 2016, a month and a half after Ganor and Shimron met with the German ambassador. IDF Chief of Staff Gadi Eisenkot was also reportedly not informed of the ongoing talks on the deal.
Ya'alon on CNN (CNN)
In a video he posted on his Facebook page, Ya'alon claimed he "blocked the submarine deal with (his) body while I was defense minister, and the talks were renewed only after I left. This is a deal worth billions neither I as defense minister, nor the IDF chief, nor the Navy commander have asked for."
In an interview with CNN on Tuesday, Ya'alon said he "absolutely" believed Prime Minister Netanyahu will be indicted on the case.