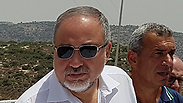 Avigdor Lieberman
Photo: Shaul Golan
Lieberman, Dagan clash ahead of cabinet discussion on Qalqilya plan
Defense minister claims plan to expand the Palestinian city is only the trigger to 'struggle between the responsible right and the messianic right'; Samaria Regional Council leader Yossi Dagan, meanwhile, asserts plan is 'dangerous.'
Defense Minister Avigdor Lieberman clashed with head of the Samaria Regional Council Yossi Dagan on Wednesday over a plan to build 14,000 housing units in Qalqilya.

Lieberman, who supports the plan, visited the Ma'ale Shomron settlement ahead of a scheduled Security Cabinet discussion on the issue on Wednesday evening. The defense minister was there to officially open the new road connecting the settlement to the nearby outpost El Matan.

"I represent the responsible right wing, not the messianic right wing," Lieberman said. "The plan includes a total of 6,000 housing units inside an enclosed area."

He presented a chart showing that during 2017, more housing units have gone on the market than any year before it since 2000.

The defense minister also asserted that Qalqilya "was merely the trigger to the struggle between the responsible right wing and the messianic right wing."

Dagan was quick to respond, saying, "I don't think I'm messianic or part of the delusional right wing. But the Qalqilya plan is dangerous."

The plan to expand the Palestinian city, which was met with strong opposition from the settlers and the right wing, includes a zoo, sports fields, commercial areas, public structures, and upscale neighborhoods.

But even though 14,000 housing units were approved, in potential, the plan states in reality the area allocated for construction can hold no more than 6,000 housing units, a thousand of which have already been built.

Dagan has been mounting a recent campaign in an effort to convince ministers Yisrael Katz, Gilad Erdan and Ze'ev Elkin to join ministers Naftali Bennett and Ayelet Shaked who have already voted against the plan. Dagan has also tried to sway Minister Yoav Galant, but sources say it is unclear whether he plans to support or oppose the plan.

"This plan is absurd, to double Qalqilya, two kilometers from Kfar Saba, at the expense of lands under full Israeli control and while endangering the residents of Kfar Saba, Kokhav Ya'ir, the Sharon region and the Samaria area," Dagan said Tuesday.

Lieberman, meanwhile, sees Qalqilya as part of his carrots and sticks plan vis-à-vis the Palestinians and will have to address the security issues the settlers claim the plan poses.