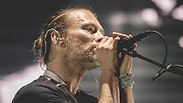 Thom Yorke continues to defend Radiohead's decision to play in Tel Aviv's Yarkon Park, replying to repeated calls by British director and BDS advocate Ken Loach.

On Tuesday, Yorke Tweeted, "Playing in a county isn't the same as endorsing its government. We've played in Israel for over 20 years through a succession of governments, some more liberal than others. As we have in America. We don't endorse Netanyahu anymore than Trump, but we still play in America.

"Music, art and academia is about crossing borders not building them, about open minds not closed ones, about shared humanity, dialogue and freedom of expression. I hope that makes it clear Ken."

Yorke's comments were published in response to an article by director Ken Loach in The Independent, in which the British filmmaker wrote that Radiohead should have joined the cultural boycott of Israel.

"I was surprised to read in Rolling Stone that Thom Yorke believed critics of Radiohead's scheduled concert in Tel Aviv were simply 'throwing shit' at the band in public, without speaking to them privately. This is both inaccurate and—even if it were accurate—quite irrelevant.

"Whether in apartheid South Africa in the past or apartheid Israel in the present, when an oppressed community asks renowned international artists not to lend their names to their oppressors' attempts to whitewash their human rights violations, it is our moral obligation to heed their appeals.

"Yorke chides us for 'throwing around' the word apartheid. The definition fits, all too well. Palestinian men, women and children are forced from their homes only to see Israeli settlers move in, they watch their homes being demolished as illegal construction of Jewish-only homes proceeds on confiscated Palestinian land, they travel on racially segregated roads and face humiliation at Israeli checkpoints and roadblocks."

Loach said that during the past three weeks, he had approached the band and its directors several times and asked to initiate a meeting with Palestinian artists, but has so far been ignored.

"This is deeply disappointing. I don't know who is advising Radiohead, but their stubborn refusal to engage with the many critics of their ill-advised concert in Tel Aviv suggests to me that they only want to hear one side—the one that supports apartheid," wrote Loach.

Radiohead's scheduled appearance in Tel Aviv has been met with resistance for a number of months. Among those attempting to prevent the band from performing are Roger Waters and other British musicians who signed a petition calling on the band to halt the performance.