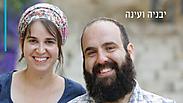 Yavniah and Einah, an uncle and his niece
Photos: Dor Lubton, Hila Shiloni and Alona Meshulami
Dozens of religious lesbians, gays, bisexuals and transgenders (LGBT), along with their families, took part in a new campaign aiming to raise awareness and acceptance or religious LGBTs.

The campaign is titled, the Beautiful Faces of our Loved Ones, Women and Men who Wish Us Well with a Loving Heart, Who Held Us Tight when We Told Them Who We Are. It includes the photos of a mother and her son, an uncle and his niece, a grandmother and her grandson, a brother and sister, and of best friends. Their photos will be shown on billboards in time for the Jerusalem Pride parade in August, whose theme this year is LGBTs and Religion.

Religious LGBTs chanting a call for love and acceptance at the Jerusalem Pride parade (צילום: אייל ליברמן)

The campaign was spearheaded by the gay religious organization Havruta (Friendship), in cooperation with other organizations from the gay religious community, such as the religious lesbian organization Bat-Kol (Voice), the religious tolerance organization Shoval and the LGBT center Jerusalem Open House.




"I may not love enough to announce my love, but other than that I say what I want," stated Yafa Auster, who was photographed with her grandson, Elik.

"A big part of why I'm religious today is because of her," added Elik. "My grandmother's stories have become part of my own, linking me to the larger story of the People of Israel. The world will be a better place with people prefer grandmothers over ideology."

"'The world will be a better place when parents accept their children as they are," said Helen Albom, the mother of Chaim, who defines himself as gay. Helen decided to be photographed with Chaim's partner, Yair Strauss. "The Blessed G-d created them, and we have to believe in Him and accept this with love. Because everything comes from G-d and it is all for the best.

"The world will be better society realizes that the Blessed G-d doesn't make mistakes. We were all made in His image, and we want a life of truth and happiness out of the belief that the Lord loves us," added Strauss.

The campaign asks its participants the same list of questions. It is a continuation of last year's campaign, which included religious LGBTs publicly identifying themselves as such for the first time.

Though many in today's religious community do not accept its LGBTs members or the Pride parade and other LGBT events, in the past Jewish communities did show some level of acceptance toward its LGBT members, and saw same-sex inclinations as a natural human occurrence.

Helen answered one of the questions presented to her by saying, "I'll never forget the delicious yeast cake he (Yair—ed) brought me when he came to visit me with Chaim for the first time." She added that "I wanted to tell him that I was so happy he is my son's partner, because I could see the positive connection between them. That I was happy for them."

Havruta Chairperson Daniel Jonas said that "this campaign is another step in recognizing religious LGBTs. We came to show that we have the growing support of our families and the communities in which we live.

"Even if we could be ignored, our families, friends and those who surround us cannot be. We are flesh of their flesh, (as well as) the flesh of the religious community." Jonas added that this year's theme in Jerusalem, of LGBT and religion is "an opportunity to once again call out loudly, 'We're here, and we're not going anywhere!'"