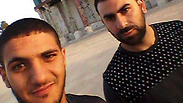 Two of the three terrorists: Muhammad Hamed Jabarin (L) and Muhammad Jabarin
A large police force arrived on Friday to Umm al-Fahm and dispersed the crowd gathered at the mourners' tents erected by the family of the terrorists who carried out Friday's deadly attack at Temple Mount. Police also raided the families' homes and asked neighborhood residents to stay indoors. Hundreds of police personnel were dispatched to the city.

Two policemen were killed and a third was lightly wounded in a terror attack on Friday morning when three terrorists opened fire at Border Police forces at the Lions' Gate in Jerusalem's Old City. The three attackers were shot and killed by police.

Dispersing the mourners' tents

The attack was carried out by three Arab terrorists from Umm al-Fahm, all of them without a prior links to acts of terrorism. They are Ahmed Muhammad Jabarin (29), Muhammad Hamed Abed al-Latif Jabarin (19) and Muhammad Ahmed Mafdel Jabarin (19).

The moment of the attack

The three terrorists arrived at the Temple Mount at around 7am armed with two Carl Gustav rifles and a handgun. As they approached the Lions' Gate, they noticed Israeli patrol officers and started shooting at them.

Police chase after terrorists (צילום: דוברות המשטרה)

The terrorists then fled towards one of the mosques in the Temple Mount complex. Police gave chase, shooting and killing all three.


A video of the attack shows one of the terrorists, who was initially declared "neutralized," get up and try to hurt an Israeli officer, who then shot and killed him.

Two of the policemen, Ha'il Satawi and Kamil Shnaan, were taken to the Hadassah Medical Center in Jerusalem's Mount Scopus in critical condition, where they succumbed to their wounds. The third policeman, 39, was hurt from shrapnel and was taken to the Shaare Zedek Medical Center in the capital in light condition.

During an emergency security meeting that followed the attack, Prime Minister Benjamin Netanyahu decided that the mourning tents set up in Umm al-Fahm be dismantled. Netanyahu also decided that following a security assessment on Sunday, the Temple Mount could gradually be reopened to worshippers.

The meeting was also attended by Minister of Defense Avigdor Lieberman, Chief of Staff Lt. Gen. Gadi Eisenkot, Police Commissioner Roni Alsheikh, Shin Bet director Nadav Argemon and head of COGAT, Maj. Gen. Yoav Mordechai.

A relative of one of the terrorists responded with shock upon learning that he had assisted in carrying it out. "We're still in shock. If we would have known, we would have immediately stopped them. It's not like we lack troubles. We're against such acts. This shooting helps with nothing but destroys everything. Now everyone will attack us.

"When I got the message, I thought there must have been some mistake in identifying (the terrorists—ed), because my family member is a quiet person whp wouldn't think of shooting police men. This kind of event never should have happened."

The three killed terrorists lived in two neighboring blocks, and a mourners' tent was erected in them Friday morning.

Shafiq Jabarin, who is Muhammad's uncle, said, "We did not know of the event. If I would have known, I wouldn't have allowed him to do it. We're not terrorists, heaven forbid. No one in the family knows exactly what happened there."

He added that no one in is accepting the act of terrorism. "I can't process it. No one condones such a thing, not in the Arab sector and not in the Jewish sector. We're don't heaven forbid to enemy forces that we would want to do something bad to people."