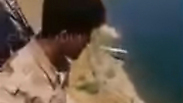 Iraqi soldiers from video
The Iraqi government has announced that it is conducting an investigation into a video posted on social media allegedly depicting Iraqi soldiers executing ISIS prisoners in revenge for attacks committed by the group.

In the video, uniformed soldiers are seen leading an unarmed man to a cliff before hurling him ten meters down onto the body of another man thrown off before. Soldiers then proceeded to open fire at the bodies of both men to ensure they were dead.

A spokesman for the Iraqi Interior Ministry told the BBC that if the video was true, those involved would be prosecuted.

Iraqi soldiers throw ISIS suspects from cliff

Gen. Yehia Rasul, spokesman for the Joint Operations Command of the Iraqi Army, said, "We are looking into this matter in depth, and all the commanders of the Iraqi forces want to get to the bottom of the matter. If there was any violation of human rights by any force—be it an anti-terror force, the police or the army—those responsible will stand trial and be treated severely."

However, Rasul stressed that the video may not be genuine. "Do not forget that those who want to hurt the joy and confidence we have achieved in this victory may fake such videos."

The manner in which the video was filmed is reminiscent of ISIS' method of executing spies and homosexuals. The terrorists would throw suspects from the roofs of buildings—to the sounds of cheers from spectators—before shooting their bodies.

In recent months, international officials have expressed concern following the liberation of Mosul by Iraqi security forces that the largely Shiite forces will carry out revenge attacks against Sunni civilians accused of being ISIS collaborators.

Human Rights Watch said Friday that it had verified the credibility of the video through satellite imagery and found it was filmed in west Mosul.