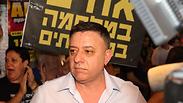 Avi Gabbay
Photo: Motti Kimchi
Newly elected Labor party chairman Avi Gabbay joined the 33rd consecutive Saturday night protest outside the home of Attorney General Avichai Mandelblit in Petah Tikva, demanding that the government be dissolved.

Addressing protestors, Gabbay said, "I came here to support good Israelis who vote for all parties—Bayit Hayehudi, Kulanu, Shas, Likud—and they do not want corruption. Neither personal corruption nor public corruption. They say 'stop hiding behind procedures.'

"The Prime Minister received hundreds of thousands of shekels in (illicit) gifts, there is no dispute about this," said Gabbay. "This isn't just a legal matter. I'm not talking about the attorney general here. I know that the demonstration here is mainly against him. I am talking about the heads of the coalition factions: Make the decision and dismantle the government."

Commenting on Gabbay's remarks that there's "no dispute" that Netanyahu received illicit gifts, The Likud Party said: "You bet there's a dispute over the lies that Avi Gabbay spread. What is indisputable is that Avi Gabai himself was sent to house arrest in over the Bezeq scandal of 2005 and received more than NIS 50 million from Bezeq immediately after he finished his job at the Finance Ministry, where he dealt mainly with issues related to the media and Bezeq."

Across the street gathered some 30 pro-Netanyahu protestors, one who said, "He is the best prime minister for Israel. This won't help you. There is witch hunt against him."

Protestors frequently allege that Mandelblit is working slowly in investigating the claims of corruption against Netanyahu. However, two weeks ago Mandelblit referred to the claims and said that police need to be allowed to do their jobs.

"I am aware of the importance of completing the investigation within a short period of time, but alongside the importance of acting quickly, it is important to clarify the suspicions in the best possible manner and to collect evidence in a proper and professional manner," said Mandelblit.

However, Mandelblit emphasized, "The investigation is proceeding with great vigor and as soon as it is over, we will make a decision."