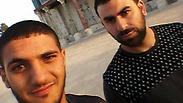 Two of the three terrorists
Jordanian parliament glorifies Temple Mount terrorists
Despite King Abdullah II condemning incident, parliament's chairman Atef Tarawneh describes terrorists who murdered two Druze policemen on Temple Mount as 'martyrs', asks Allah to have 'mercy on our martyrs who watered our pure soil' and heroizes their families who 'deserve honor and fame.'
The Jordanian parliament lauded the actions of the three terrorists Sunday evening who carried out a deadly shooting attack on Friday at the Lions' Gate in Jerusalem's Old City, describing them as "martyrs."

The parliamentary session in Jordan was held less than 24 hours after the country's King Abdullah II spoke with Prime Minister Benjamin Netanyahu and condemned the terror attack on Temple Mount.

Condemning Israel's decision to temporarily close the Al-Aqsa mosque to worshippers in the aftermath of the attack, the MPs glorified the three terrorists who murdered the two Druze policemen, Staff Sgt. Maj. Ha'il Satawi, 30, and Staff Sgt. Maj. Kamil Shnaan, 22, of Maghar and Hurfeish respectively

"May God have mercy on our martyrs who watered our pure soil," said the chairman of parliament, Atef Tarawneh.

"We will raise our heads through the sacrifice of the young Palestinians who still fight in the name of the nation," he added.

Members of parliament also requested to pray for the souls of the three terrorists—Ahmed Muhammad Jabarin (29), Muhammad Hamed Abed al-Latif Jabarin (19) and Muhammad Ahmed Mafdel Jabarin (19)—from Umm al-Fahm, all of them without a prior links to acts of terrorism .

"May Allah have mercy on our youths, the members of the Jabarin family who deserve honor and fame," Tarawneh declared.

"The damage by the Israeli occupation in the holiest sites of Jerusalem and in Al-Aqsa are grounds for continuing the resistance, not to surrender in the face of oppression or tyranny. The Israeli persistence and the severity of its crimes it is committing are the reasons for the setting of fire of revenge in their hearts among the generations who inherit the hatred of the occupation."




Tarawneh also credited King Abdullah for the reopening of the Al Aqsa Mosque, saying that his position forced the Israeli government to allow worshippers to enter once again. He added that Abdullah's position obligates the government to act continuously to protect the rights of the Palestinian people.

The heroization of the terrorists comes on the heels of a statement made on Sunday night by President Reuven Rivlin, who said that the attack was the crossing of a red line before lauding King Abdullah for unequivocally condemning the incident.

"I want to praise the responsible leadership in the entire region, including the enlistment of the King of Jordan and the head of the Palestinian Authority, who well understood the danger and acted with us to calm tensions."

Roi Kais, Hassan Shaalan, Elior Levy and Itamar Eichner contributed to this report.