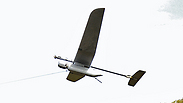 Skylark drone
Photo: Haim Hornstien
Palestinians return Israeli drone after crash in West Bank
Yet another Skylark drone falls inside Palestinian territory, this time while assisting IDF troops near Nablus during a search for wanted individuals in a refugee camp near Nablus; IDF investigate whether it was caused by a technical malfunction or a blunder by the drone's operator.
An IDF drone was returned to Israel after falling overnight Monday while carrying out operational activities near the city of Nablus and after being located by Palestinians the following morning.

The drone fell inside the Palestinian refugee camp of Askar on the outskirts of the city while it was assisting Israeli troops operating inside the camp who were carrying out arrests of a number of wanted Palestinians.

The precise cause of the fall is not yet clear, but the IDF is currently investigating whether it occurred as a result of a technical malfunction or a mistake by its operator. Either way, the army has said there is no cause for concern regarding the leakage of information as a result of the incident.

The drone, known as the 'Skylark ' is one of the smallest in the IDF and is used by the Artillery Corps in tactical missions such as patrols and intelligence collection.

The most recent Skylark drone crash joins a string of similar incidents in recent months in the West Bank, Lebanon and the Gaza Strip.

At the beginning of the month, a Skylark drone fell in southern Gaza. Also then, the IDF assured that there was no fear of leaked information from the aircraft.

Just a few days prior at the end of June, another drone of the same model fell in Bethlehem before being found by IDF soldiers. In May, another one fell in Lebanese territory but no sensitive information was compromised.

In March a Skylark drone crashed in northern Gaza while carrying out routine operations in the northern Gaza Strip in the Saja'iyya.