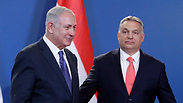 Hungarian PM: Collaboration with Nazis was mistake, sin
Orban assures Netanyahu that Hungary is on the side of the Jewish people; 'At the time, instead of protecting the Jewish community, we chose collaboration with the Nazis. This can never happen again. In the future, the Hungarian government will protect all its citizens.'
Hungarian Prime Minister Viktor Orban told Prime Minister Benjamin Netanyahu during their meeting Tuesday that despite Hungary's crimes in the 20th century, the country will never again tolerate anti-Semitism.

Netanyahu said that Orban "promised" him unequivocally that the Hungarian government is on the side of the Jewish people.

This promise comes after the Hungarian government conducted an aggressive campaign against Jewish billionaire and Holocaust survivor George Soros, who over the past few weeks attacked Hungary's policy against immigrants and refugees seeking to enter the country on their way to Germany.

According to Orban, Hungary's collaboration with Nazi Germany during World War II was a "mistake" and a "sin" as it failed to protect its Jewish community.

Orban said he told Netanyahu that he was aware of the "difficult history behind us."

Some 550,000 Hungarian Jews were killed in the Holocaust.

Orban and Netanyahu meet in Budapest (צילום: לע"מ)

"At an earlier time, the government of Hungary made a mistake, moreover, committed a sin when it did not protect its citizens of Jewish heritage," Orban said during a press briefing after his meeting with Netanyahu in Parliament.

"Every Hungarian government has the duty to protect all of its citizens, regardless of their heritage."

Orban continued, saying, "During World War II, Hungary did not comply with this moral and political requirement. This is a sin because at the time we decided that instead of protecting the Jewish community, we chose collaboration with the Nazis.

"I made it clear to the prime minister that this can never happen again. In the future, the Hungarian government will protect all its citizens."

Netanyahu is the first Israeli prime minister to visit Hungary since 1989, when Hungary was still under communist rule.

Netanyahu said he thought about Hungary first in relation to the birth of modern Zionism, as Theodore Herzl, "our modern Moses," was born in Budapest in 1860.

He thanked Orban for Hungary's repeated support for Israel.

He cited French President Emmanuel Macron's recent statement drawing a parallel between anti-Semitism and criticism of Israel. "Macron said there is a new anti-Semitism that is expressed in anti-Zionism, that is delegitimizing the one and only Jewish state," Netanyahu said.

"In many ways, Hungary is at the forefront of the states that are opposed to this anti-Jewish policy and I welcome it and I express the appreciation of my government and the people, many people in Israel for this."

Orban, meanwhile, repeated his opposition to mass migration mostly by Muslims, which he has said would lead to irreversible changes in European culture and its population.

"I made it clear that Hungary has serious disputes in the European Union, as Hungary does not want a mixed population," Orban said. Hungary "does not want to change its current ethnic composition, it does not want to defer to any external, artificial influence."

"We'd like to remain as we are, even if, I have to admit, we are not perfect," Orban added.

On Wednesday, Netanyahu and Orban will meet with leaders of Poland, the Czech Republic and Slovakia—Hungary's partners in the so-called Visegrad Group—and also visit representatives of Hungary's Jewish community.