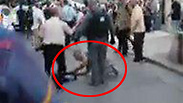 Ynet reporter Hassan Shaalan attacked by police
Ynet reporter attacked by police while covering Temple Mount riots
Hassan Shaalan was ordered to leave site of clashes between police and Muslim worshipers, despite making it clear he was a journalist; police then hit him, shove him to the ground and kick him; Police: 'In such incidents, all those present are required to follow police instructions.'
Ynet reporter Hassan Shaalan was attacked Monday evening by police while covering clashes near the Temple Mount in Jerusalem's Old City.

The clashes between police and Muslim worshipers broke out around 7:30pm near the Lions' Gate in the wake of the increased security at the holy site following a terror attack Friday that claimed the lives of two Israeli police officers.

Shaalan was filming the clashes with his cellphone when police officers approached him and demanded: "Get out of here, we don't want to see you."

When another police officer asked him again to leave, Shaalan responded that he was a journalist. "I don't care, get out of here," the police officer said, pushing the reporter.

Another policeman hit Shaalan, forcefully shoved him to the ground, and then kicked him.

Shaalan suffered injuries to his hand, chest, stomach and legs, and his cellphone screen was broken. Local medical teams treated him on the scene. While they were treating him, a stun grenade was thrown in their direction. Shaalan received further care Tuesday at the Hadassah Medical Center in Jerusalem's Mount Scopus.

The Israel Police said in response, "This incident occurred during violent rioting in Jerusalem, while the police officers were working to clear protesters from the road after some of them refused to evacuate. The forces operating in the field are under constant danger. In such incidents, all those present are required to follow police instructions and evacuate when asked to.

"Regardless of one incident or another, it is important to emphasize no person in Israel, including a journalist, is above the law. Still, the circumstances of the incident are being examined and if found necessary, we will refer (the officers) to the relevant bodies."