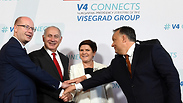 Netanyahu with the leaders of Hungary, Poland, the Czech Republic and Slovakia
Photo: Haim Tzah, GPO
Prime Minister Benjamin Netanyahu went on an unprecedented tirade against the European Union on Wednesday, calling the organization's treatment of Israel "crazy."

"There is no logic here. Europe is undermining its own security by undermining Israel," Netanyahu said in a private meeting in Budapest with the leaders of Hungary and the Czech Republic discussing Iran, Syria, the Islamic State, and EU-Israel relations.

Netanyahu's hot mic comments were accidentally broadcast to journalists covering the prime minister's trip through their earpieces. The feed was cut off as soon as it was discovered.




Before that, however, journalists heard the prime minister criticize the European Union for conditioning technological cooperation with Israel on creating the political conditions for peace talks with the Palestinians.

"Europe is endangering its own development by endangering its ties with Israel over this crazy attempt to create conditions" for peace between Israel and the Palestinians, he said. "Israel is right there and Europe is disconnecting itself from this massive center of innovation."

He went on to comment that, "If this were only about my interests, I wouldn't have brought it up. Don't undermine the only country in the region that is looking after Europe's interests. Stop attacking Israel, support Israel."

Hungarian premier Viktor Orbán responded to Netanyahu in a conciliatory tone, telling him the European Union sets similar conditions to its member states as well. "We definitely understand what we're talking about," he said.

Netanyahu replied that "Europe must decide if it wants to live and prosper or wither and disappear. I see you're shocked because I'm not being politically correct.... We're part of the European culture. Europe ends in Israel. East of Israel, there's no more Europe... I suggest you first help us and Europe by expediting agreements with us and sending a message to your colleagues in Europe on how to help Europe."

The prime minister told the other leaders of Israel's good ties with world powers like China and India. "There's a strange situation here, I must say. The European Union is the only one in the world that sets conditions to its ties with Israel, which spreads technology in every region of the world," he said. "I've just been to China. President Xi told me, 'You're an innovation giant.' We have special ties with China and they don't care about politics. (India's Prime Minister) Modi told me, 'I need to solve the water problem, what should I do? I need to produce milk, what cow produces the most milk? The Israeli cow.'"

He also discussed Israel's ties with the US. "We had a big problem with US policy. It's different now. There's a stronger stance against Iran. There's a renewed American presence in our region and more bombings, and that's positive... I told (Russian President) Putin, when we see (Iran) transferring weapons to Hezbollah, we'll hit them. We've done it dozens of times."

Netanyahu met with leaders of Poland, Hungary, the Czech Republic and Slovakia at a regional summit Wednesday.