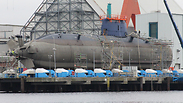 Israel's INS Rahav submarine at the shipyard in Kiel
Photo: EPA
Document shows Israel expected to approve submarines sale to Egypt
Despite claims by Netanyahu that 'it wasn't Israel's decision, it was Germany; we didn't decide to approve or not approve' Berlin's deal with Cairo, minutes of ThyssenKrupp meeting show Jerusalem's okay was sought for 2009 sale of less advanced submarines.
Prime Minister Benjamin Netanyahu claimed Wednesday it was not Israel's decision on whether or not to approve Germany's submarines sale to Egypt, but a document concerning a 2009 deal indicates Berlin did expect Jerusalem's approval on the matter.

"This wasn't Israel's decision, it was Germany's; we didn't decide to approve or not approve," Netanyahu told reporters covering his visit to Budapest.

But a document obtained by Yedioth Ahronoth with the help of the non-profit German research system corrective.org reveals Israel's approval was necessary to complete German conglomerate ThyssenKrupp's deals with Egypt.

The document concerns the 2009 deal, when Egypt, under President Hosni Mubarak, sought to buy two submarines from ThyssenKrupp.

During a December 2009 company meeting, Walter Freitag, a member of ThyssenKrupp's executive board, reported on the status of the company's different projects.

According to the minutes of the meeting, he said the Egyptian clients were leaning towards purchasing the submarines from the German shipyard.

But the lion's share of his report on the possible sale to Egypt concerned Israel. According to Freitag, "the approval on the import to Egypt, which is on the agenda, will be agreed upon" during a meeting between the Israeli and German governments scheduled for January 2010.

Several months before that meeting, Freitag visited Israel and met with senior official in the Defense Ministry as well as then-finance minister Yuval Steinitz. In that same trip, the replacement of ThyssenKrupp's representative in Israel was forced upon him, when Yeshayahu Bareket was replaced by businessman Miki Ganor.

Prime Minister Netanyahu and then-defense minister Ehud Barak did eventually give Germany permission to sell less advanced submarines to Egypt.

Following Mubarak's ouster in 2011 and the rise to power of the Muslim Brotherhood and Mohamed Morsi, Netanyahu and Barak asked Germany to cancel the deal. The Germans said they could not withdraw from their agreement with Cairo at that point, and the submarines were delivered to Egypt in 2016.

The current police investigation concerns a second deal between Berlin and Cairo, which the Israeli government allegedly approved in 2014 without the knowledge of then-defense minister Moshe Ya'alon and the relevant department heads in the Defense Ministry.

While the two submarines Egypt purchased from ThyssenKrupp in 2009 were less advanced than those sold to Israel, the four submarines it purchased in 2014 were equal in capabilities to those sold to Israel. Meaning, Berlin needed Jerusalem's approval in 2009 even when the weapons being sold were not considered "game changers."

Netanyahu, meanwhile, remained confident in the face of controversy on Wednesday. "I told you I wasn't involved in the submarines and naval vessels case. Now it is becoming clear," he told reporters.

The prime minister added that while the deal to sell Israel submarines and corvettes was frozen by the German government in light of the ongoing police investigation, he was not concerned. "Matters will be clarified, and I believe the deal will be carried out," he said. "The Germans are waiting to see how the investigation ends. When the investigation ends, it'll be signed."

Netanyahu also criticized the accusations made against him, saying "I'm responsible for Israel's security. The desire to hurt me has crossed all lines and is now affecting Israel's security. This is irresponsible."

He rejected allegations against his personal attorney and relative David Shimron, saying "there are no millions here... who said there's corruption? Show me one person who has been convicted. You've woven a tale against me and now it's plummeting to the depths."