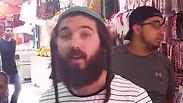 Right-wing settler activists Zvi Sukkot and Ezri Toby filmed an Arabic-language film in the Old City of Jerusalem in which Sukkot addresses Israel's Arab community and admonishes them for the recent Temple Mount attack and their perceived lack of condemnation.

Sukkot's video caused a commotion in the market, with several shopkeepers shouting "Allahu Akbar" and telling Sukkot to "shut up" during filming.

Zvi Sukkot addresses Israeli Arabs (צילום: בומרנג )

In the video, Sukkot said, "Three of you murdered two Druze policemen at the Al Aqsa Mosque and none of your leaders dare condemn the attack. Are you crazy? You're exploiting Israeli good heartedness and spitting in their face! You know you're safest in Israel."

Sukkot also referred to the tension surrounding the issue of metal detectors at the entrance to the Temple Mount and rebuked Arabs for their anger. "Why are you complaining that you are being checked? Don't complain that Israeli society regards you as guilty of murder."

Boomerang, the company behind the video, issued a statement saying, "In the era of social media you no longer need the mediation of the foreign media, which sees Judea and Samaria settlers as foreign conquerors. We can speak for ourselves and the State of Israel directly in the language of the average Arab—in Israel and the Middle East—in a way they can understand and appreciate."