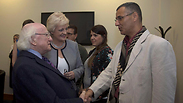 Irish President and BDS founder Omar Barghouti
Photo: BDS
The Israeli embassy in Ireland has strongly protested a meeting between Irish President Michael D. Higgins and founder of the BDS movement Omar Barghouti. The two exchanged warm words and were photographed shaking hands.

The meeting between the two took place at a trade union conference held in Belfast, where Barghouti was a guest of honor and even received an award.

In his speech, Higgins praised Barghouti and the conference organizers who invited him "to speak about the challenges that await Palestinians." Barghouti, who spent several days in Ireland, was also received with respect in the city of Derry, which last September adopted a boycott resolution against Israel.

The Israeli embassy in Ireland lodged an official complaint with the Irish Department of Foreign Affairs following the meeting between the two.

However, Israel was not surprised by the warm reception Barghouti received in Ireland. Higgins is a poet, a former leftwing activist and a very vocal critic of Israel. In the past he was the head of the Friends of Palestine in the Irish Parliament and demonstrated against Israel's security fence wearing a kaffiyeh.

In many speeches Higgins has emphasized that solving the Israeli-Palestinian conflict will solve all the problems in the Middle East.

In 2005 Higgins was also a member of a European delegation that called for the evacuation of 400,000 settlers from the West Bank, claiming that the Israeli occupation was to blame for the conflict.

Additionally, Higgins has also claimed that Hamas is not a terrorist organization and that the security fence that Israel established on the border of the West Bank was an "apartheid wall" rather than a wall designed to protect it. In 2004 he even signed a petition calling for a boycott of Israel.

Higgins has also taken part in protest rallies against Israel in Dublin where Hezbollah flags were flown.

The Israeli foreign ministry issued a statement in response, saying, "The embassies in Dublin and London were aware of Barghouti's visit to the trade union conference held in Northern Ireland. The ambassador in Dublin delivered his protest at the appropriate levels concerning the inclusion of Barghouti in the Irish President's blessing to conference participants."