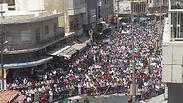 Protests against Israel in Amman
Israel-Jordan relations reach fever pitch
Thousands take to the streets in Amman against Israel over Temple Mount crisis, unrest in east Jerusalem; Jordanian street also receives backing from the parliament, which praises terrorists who murdered Israeli policemen and cries out against 'Israel's actions in Al-Aqsa.'
The dramatic stabbing attack at the Israeli embassy in Amman that led to the death of the terrorist and the wounding of an Israeli security guard was preceded by days of increased tensions between Jordan and Israel as a result of Temple Mount tensions.

While King Abdullah II condemned the terrorist attack at the Temple Mount which resulted in the deaths of two Israeli policemen, Jordanian society and the parliament are outraged at the ensuing Israeli security measures.

Protests against Israel in Amman

This anger is evidenced by a recent protest in Amman where protestors chanted "how wonderful to kill soldiers in Jerusalem" and by a moment in parliament where lawmakers prayed for the souls of the terrorists who committed the attack.

A day after the attack, King Abdullah II called Prime Minister Benjamin Netanyahu and condemned the attack. The Jordanian king rejected violence in all its forms, especially at holy sites, while at the same time, called for the Temple Mount to be reopened to worshipers after it was decided to close the compound following the events.

However, less than a day after this conversation, other voices were heard in the Jordanian parliament. Jordanian legislators strongly condemned "Israel's actions in the Al-Aqsa Mosque" and even praised the three terrorists who murdered the two policemen.

"May God have mercy on our martyrs who quench our pure soil. We will raise our heads through the sacrifice of the young Palestinians who still fight in the name of the nation. The damage by the Israeli occupation in the holiest sites of Jerusalem and in Al-Aqsa are grounds for continuing the resistance, not to surrender in the face of oppression or tyranny.

"The Israeli persistence and the severity of its crimes it is committing are the reasons for the setting of fire of revenge in their hearts among the generations who inherit the hatred of the occupation," said parliament chairman Atef Tarawneh.