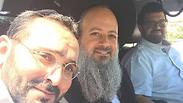 A group of some 20 ultra-Orthodox Jews was detained at a hotel near Petra on Monday while religious items were taken from them by Jordanian authorities.

The group was in Jordan to visit the grave of the high priest Aaron, the brother of Moses, in a place known as Mount Hor in the Torah.

The first day of the Hebrew month of Av, which falls on Monday, is the anniversary of Aaron's death. An annual celebration is held in Petra on that day in his memory.

While other groups of Jewish faithful were able to get to the grave, one group was prevented from leaving their hotel.

The families of the detained Haredim contacted the Israeli Foreign Ministry, which said in a statement: "The consul spoke to them and ask them to keep a low profile and follow police's instructions. In addition, the consul will advise them to return to Israel earlier due to the explosive timing."

Members of the group described great hostility towards them and attributed it to the incident at the Israeli embassy in Amman.

They said high-ranked Jordanian police officers treated them badly and conducted thorough searches of their possessions for any Jewish symbols, such as kippahs, prayer shawls or tefillin.

A member of another group, which had already returned to Israel, said the Jordanians did not let them bring any Jewish religious items into the country "due to security reasons."