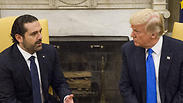 Hariri and Trump meet in the Oval Office
Photo: MCT
US President Donald Trump called the Lebanese Shiite militia Hezbollah a threat to the entire Middle East on Tuesday, accusing it and Iran of fueling a humanitarian disaster in Syria.
"Hezbollah is a menace to the Lebanese state, the Lebanese people and the entire region," Trump said at a joint press conference alongside Lebanon's Prime Minister Saad Hariri at the White House.
"The group continues to increase its military arsenal which threatens to start yet another conflict with Israel... With the support of Iran, the organization is also fueling humanitarian catastrophe in Syria."
Hezbollah's "true interests are those of itself and its sponsor, Iran," he said.
Trump demurred when asked to comment on sanctions against Hezbollah.
"I'll be making my position very clear over the next 24 hours," he said. "I have meetings with some of my very expert military representatives and others, so I'll be making that decision very shortly."
Trump also accused Syria's leader Bashar Assad of committing "horrible" crimes against humanity, and vowed to prevent his regime from carrying out any more chemical attacks.
"I'm not a fan of Assad. I certainly think that what he's done to that country and to humanity is horrible," Trump said.
Recalling that he had ordered cruise missile strikes on Assad for using chemical weapons, Trump said: "I am not somebody that will stand by and let him get away with what he tried to do."
Trump also said he believed there might not be any Russian or Iranian involvement in Syria today had former president Barack Obama taken action against Assad.
Trump and Hariri pledged solidarity in their joint fight against terrorism by the Islamic State group and others.
Hariri said he hoped the anti-terrorism partnership between the two countries would continue until terrorists are defeated.
"We will do that," Trump replied.
Trump expressed confidence that Hariri would eventually defeat ISIS and other terrorist groups. "Ultimately you will win ... we have great confidence in you," Trump said.
The leaders also met in the Oval Office. The White House said last week that Trump and Hariri would discuss terrorism, refugees and the economy, among other issues.
Hariri is likely to ask for US financial aid to cope with the flood of Syrian refugees entering his country because of the civil war there. Syrian refugees make up about 25 percent of Lebanon's population of about 6 million people.
Other issues on the prime minister's agenda are continued US support for the Lebanese military, and US plans to tighten sanctions on Hezbollah.
The Associated Press contributed to this report.