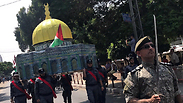 Gaza military parade
Photo: Reuters
Hamas security services in Gaza held a military parade in the strip on Wednesday "in solidarity with the al-Aqsa mosque and in protest of the Israeli harm to it."

The armed display, which included representatives from all different security services, made its way through the streets of Gaza City towards the Palestinian Legislative Council building.




Hamas also called on its members to rally on Friday after noon prayers and make their way to the border fence, where there are often clashes with Israeli security forces.

The Gazan police commissioner, Taysir al-Batash, said that "The Interior Ministry organized the march, in which activists from the lowest to the highest ranks are participating to show solidarity with Jerusalem and the al-Aqsa Mosque. Israel set a plan for itself to take over al-Aqsa and build the temple there, but we remind it that al-Aqsa is the beating heart of every Muslim and Arab."

Ahmad Bahar, the deputy speaker of the Palestinian Legislative Council and senior Hamas member, also participated in the parade. He claimed that "Israel is trying to deceive the Palestinian people by removing the metal detectors and installing cameras. The Palestinian resistance will continue to be at the forefront of the defense on the Palestinian issue and in al-Aqsa."




He called on the Palestinians to continue fighting against Israel's actions and on Arab nations to support the struggle.