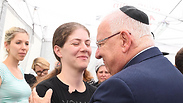 Rivlin with Michal Salomon
Photo: Mark Neiman/GPO
President Rivlin consoles mourners of Halamish massacre
Pres. Rivlin arrives at Salomon family's home to console them after 3 of the family's members are killed at Friday's terror attack; family praises soldier who shot terrorist: 'I raised him. He was in my kindergarten, and now he saved me,' says grandmother who survived attack.
President Reuven Rivlin paid a condolence visit on Wednesday at the home of Elad Salomon, who was murdered together with his father Yossi and sister Chaya during a terror attack on Friday night in the West Bank settlement of Halamish.

On his arrival to the house, Rivlin embraced the members of the bereaved family, and asked Tova, Yossi's widow, about her recovery from injuries which she sustained in the brutal attack. Tova responded that she was getting stronger, and emphasizing her appreciation to the soldier who was able to stop the massacre and the terrorist. "I raised him," said Tova, who was the soldier's kindergarten teacher, "he was in my kindergarten, and now he saved me."

The family invited the general public to participate in the circumcision of the grandson, whose birth they celebrated on that Friday night in which the attack occurred. The circumcision will take place tomorrow at 17:00 local time at the Vizhnitz Conference Hall in Elad.

Orit, Elad's sister, told the Rivlin of how she discovered that the attack had been at her parent's home, and of the horrific phone call from her sister-in-law, Michal. Rivlin seemed to be greatly moved when she told him of how Elad and Michal's eldest, Avinoam, had acted, as he hugged Avinoam.

"The entire people of Israel are with me in this house today, astounded by your strength, and the family strength you displayed," said Rivlin, adding that he had learned of Elad's special personality and could see how such a wonderful man had been raised.

Elad's widow, Michal, turned to Rivlin and emphasized her tremendous appreciation for the soldier who shot the terrorist. "We heard all kinds of voices from outside asking questions about why he only neutralized him and did not kill him," she said. The president responded by saying, "Anyone who asks this, should first ask themselves if they could do what he did."

Michal continued, "The soldier was in the right place at the right time. Simply put, he stopped this massacre. Thanks to him and his father, my children and I are here today. It is truly important to me to say that. There are no words to express my appreciation to this family. I owe them my life. And it's important to me that it is understood: this man is a hero."

"You also carry values within you that we wish all of us in the Jewish people will respect," said the President.

Before he left, the family members asked to thank the community in Halamish, and in Elad, for their unwavering support they had received from the moment of the terrible murders.