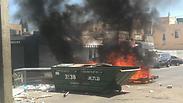 Burning tires in protest in Jaffa
Arabs rioting in Jaffa after suspected criminal shot dead by police
After a police chase in Jaffa ends with one suspect dead, Arab residents protest, burning tires, smashing police car windshield and chanting against police brutality; 'The policemen have no right to shoot at people. This time we will not keep quiet,' says one resident.
Arab protestors began marching along Yefet Street in Jaffa on Saturday, smashing a police car winshield, burning tires, throwing objects and shouting chants against Arab profiling and police brutality following a shootout between police and suspected Arab criminals, in which one of the suspects was killed.
With dozens marching and rioting in Jaffa, several young people confronted members of the police force. A police spokesperson stated that two protestors have been taken in for questioning.
Arab protest in Jaffa on Saturday (צילום: דוברות המשטרה)
"The atmosphere in Jaffa is very tense," one resident told Ynet. "The policemen have no right to shoot at people. This time we will not keep quiet, we will continue to go out on the roads and burn tires."
The scene of the crime, earlier Saturday morning (Friday night)
A relative of the man killed by police charged that "the police murdered him in cold blood, he was not endangering their lives, they could have shot at his legs and arrested him."
At around 4:30am Saturday morning, police received a report of gunfire on Yefet Street, with the window of a butcher shop having been smashed.
Policemen who were patrolling nearby were called to the scene. When they arrived, they noticed several masked men trying to escape via motorcycles.
Police began chasing after them, and eventually shot at them in an attempt to get them to stop, injuring two in the process.
One of the men, who initially was reported to be injured, later died of his wounds
The Police Internal Investigations Department is looking into the incident.