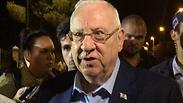 Rivlin meeting Abera's family
Photo: Free Avera Mengistu
President Reuven Rivlin on Saturday made an appearance at a demonstration held outside the President's Residence in Jerusalem for the release of Abera Mengistu, who is held in Hamas captivity in the Gaza Strip for more than 1,000 days now.

"I was in contact with the Mengistu family from day one," Rivlin said after speaking to Abera's brother, Ilan.

The president added that he works day and night to bring Abera back home, and apologized for not mentioning him to US President Donald Trump when he asked him to act to bring back the soldiers Hadar Goldin and Oron Shaul, both of whom were killed in the fighting during Operation Protective Edge in Gaza in the summer of 2014 and whose bodies were snatched by the terror organization.

A meeting between Rivlin and the Mengistu family is scheduled for Sunday.

"For almost three years, my brother Abera has been screaming 'save me,' and unfortunately his voice has not been heard. We appeal to President Reuven Rivlin to make use of his status and ties and put an end to the suffering of Abera and my family," Ilan said.