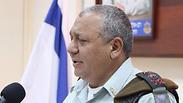 Gadi Eisenkot
Photo: Motti Kimchi
IDF Chief of Staff Gadi Eisenkot said Sunday evening that any appeal filed to him by Elor Azaria to lighten his 18-month prison sentence for the manslaughter of a terrorist who in 2016 carried out a stabbing attack would be "seriously considered."

The statement comes just hours after the Military Court of Appeals rejected an appeal of the sentence, upholding the manslaughter conviction and 18-month sentence given to the former soldier who shot dead a neutralized Palestinian terrorist during his IDF service in Hebron.

Another appeal would be considered, Eisenkot assured "while examining all the relevant considerations, and out of my commitment to the values ​​of the IDF, its fighters and its servicemen."

Praising the IDF for "fighting against terror with determination, professionalism, and values,and acknowledging the constant "unique and exceptional challenges" facing IDF soldiers, Eisenkot went on to express his pride in its ethos and successes, before praising Azaria's service prior to the shooting.

"IDF commanders and I are filled with admiration and pride for their achievements and the manner in which the missions are carried out against the enemy. Sgt. Elor Azaria is an IDF combat soldier who served like many of our soldiers as the spearhead and took on part of the shared challenge whose purpose is to provide security to the citizens of the State of Israel," he said.

"Today, the court made its ruling in the clearest fashion. The military judicial system conducted a process that was based on values, professionalism and which was impartial and independent, and without any internal or external interference. The IDF, under my command, learned the incident, took the lessons from it and will continue to do so in light of the ruling handed down today," he concluded.

The comments come on the heels of a Twitter post uploaded by Defense Minister Avigdor Lieberman, asking Elor Azaria and his family not to file another appeal to the courts, but rather to seek a pardon from the chief of staff.

"I ask the Azaria family not to file an additional appeal, but rather to appeal to the Chief of Staff for a pardon. I have no doubt that the Chief of Staff will take into account all the difficult circumstances and that he (Elor) was an outstanding soldier," Lieberman wrote.