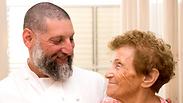 Granit and Samet
Photo: Hagit Frenkel
Chef fulfils Holocaust survivor's dream
Leah Samet, 93, from Ramla, dreamt of sitting at home with her entire family, with famous chef Assaf Granit coming to cook for them; On Sunday, that dream came true; Samet: 'I did not ask for a special menu, the main thing is for the whole family to eat together.'
Leah Samet, 93, an energetic Holocaust survivor from Ramla, had a dream—to sit in her living room with her grandchildren and great-grandchildren, with famous Israeli chef Assaf Granit cooking delicacies for her and her family, just like on television.

Samet's eldest daughter, Tsipi Gover, 67, saw in Yedioth Ahronoth an article about the project "Fulfilling Small Dreams for Big People," and decided to try her luck and ask for help in realizing her mother's dream.

Gover knew the chances for Granit to agree to this were slim, as he is, putting it mildly, very busy. As the co-owner of Jerusalem's famous Machneyuda restaurant and London's award-winning The Palomar, and the host of the Israeli prime time show Kitchen Nightmares (based on Gordon Ramsay's "Kitchen Nightmares"), Granit is famous for being a hard guy to reach.

But, to everyone's surprise, Granit immediately agreed when the request was made.

"I have a large family—two daughters, six grandchildren and eight great-grandchildren—and I love to host," Samet said. "I cook all the time for everyone, and I like someone to cook for me, too. I saw chef Granit cooking on television, I like the way he cooks and I wanted to (experience it)," explained Samet.

On Sunday, at 1pm sharp, Chef Granit came with his team of cooks to Samet's small kitchen. With the help of her grandchildren and great-grandchildren, he conducted the work in the home kitchen, just like on television, and prepared a mouth-watering dairy meal.

"My grandmother was also called Leah and they remind me of each other," Granit said, noting that he was very moved by her request. "Since Leah came from Eastern Europe, I decided to prepare a meal based on the food from the area from which she immigrated to Israel.

"In Israel, eastern food has a great influence on the local cuisine, perhaps because of the climate, but the traditional food of Eastern European Jews deserves respect in the Israeli kitchen, and I am happy to cook for Leah in this style."

Samet, who survived World War II in the Czernowitz ghetto in Romania, married her late husband in a displaced persons camp in Germany and immigrated to Israel in 1948.

"My favorite food is baked potatoes," Samet said. "I did not ask for a special menu, the main thing is for the whole family to eat together." Laughing, her daughter added: "potatoes are easy on her teeth, their soft."

In the kitchen, the grandchildren and great-grandchildren finish cutting the vegetables into a salad. Chef Granit bakes the mushrooms, tastes the sauce, and arranges the airy "polenta" made of potatoes on a serving plate.

The grandchildren and the great-grandchildren are a little weary that Granit may just shout at them, like on television, but to everyone's delight the atmosphere is pleasant as everyone sits around the antique table in the dining area.

Great-grandma Samet sits at the head of the table, all raise their glasses for a toast, and chef Granit receives a warm and loving hug from the old lady as she tells everyone: "It really is a dream come true."